Celebrating National Women In Construction Week And The Women At CEI Materials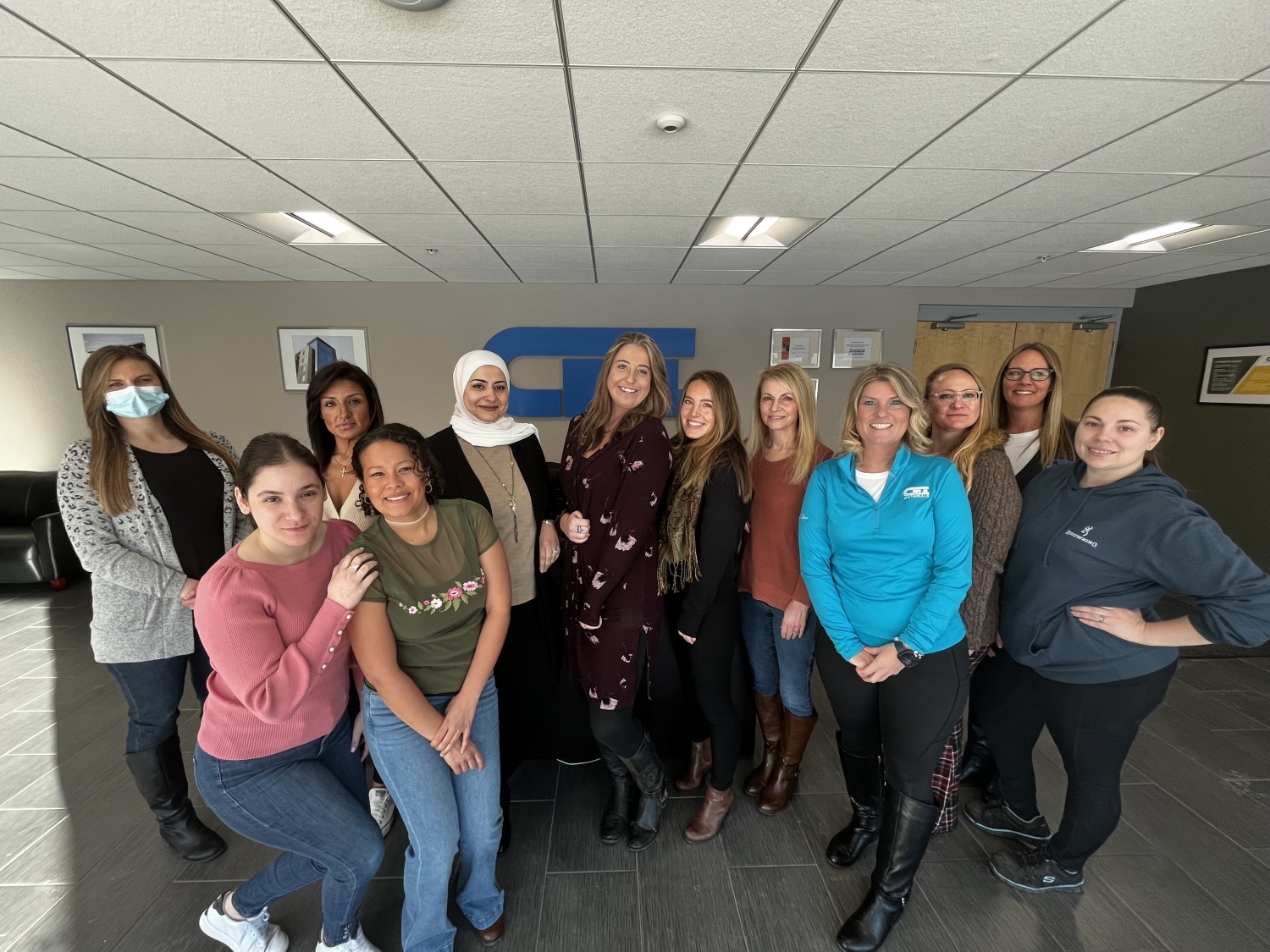 According to current research from The National Association of Women in Construction, women make up 47% of the total employed workforce in the US. Conversely, that number falls to 11% in the construction market overall and even lower for those involved in non-traditional roles such as production. It is projected that in 2022 we will see considerable growth in new construction industry jobs, and companies will be looking to recruit more women.
Historically there are several reasons why women have not been hired in the construction industry, inherent gender bias, lack of recruitment, and an overall understanding of the construction industry. However, with the creation of the NAWIC and Women Construction Owners & Executives USA, things are changing, and enlightened companies are fervently embracing a more diverse workforce. Two recent studies by McKinsey and Randstad have concluded that companies with a higher percentage of women in their workforce are more profitable and reach their growth goals quicker.
CEI Materials, a relatively young and growing company, decided several years ago that gender diversity was a key ingredient to their overall vision and philosophy of balancing family and work life. They also realized women bring a unique perspective and ideas to the historically male-dominated construction industry. As a result, in 2019, CEI Management decided to create a new female-headed human resources department in furtherance of that mantra.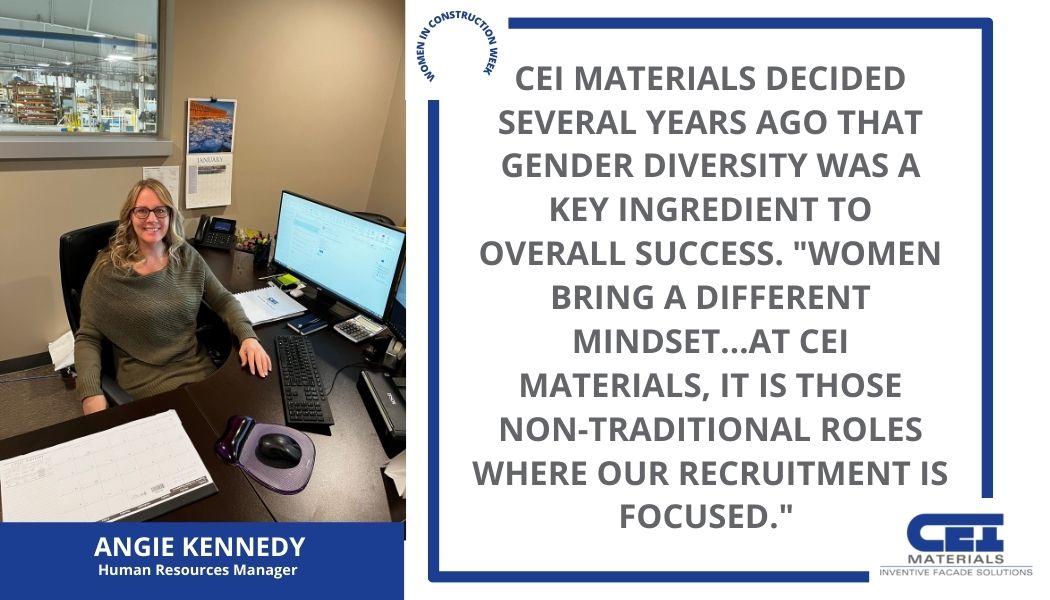 Angie Kennedy was hired as the Human Resource Manager in 2020. Kennedy has spent the last 14 years in the US manufacturing industry, 10 of them in the Human resources field. She explains, "Women bring a different mindset. They think differently as well as have better organizational skills and consistency. Traditionally women in the construction industry have held typical administrative roles, but as a business grows, there is a need for more women in non-traditional roles. At CEI Materials, it is those non-traditional roles where our recruitment is focused".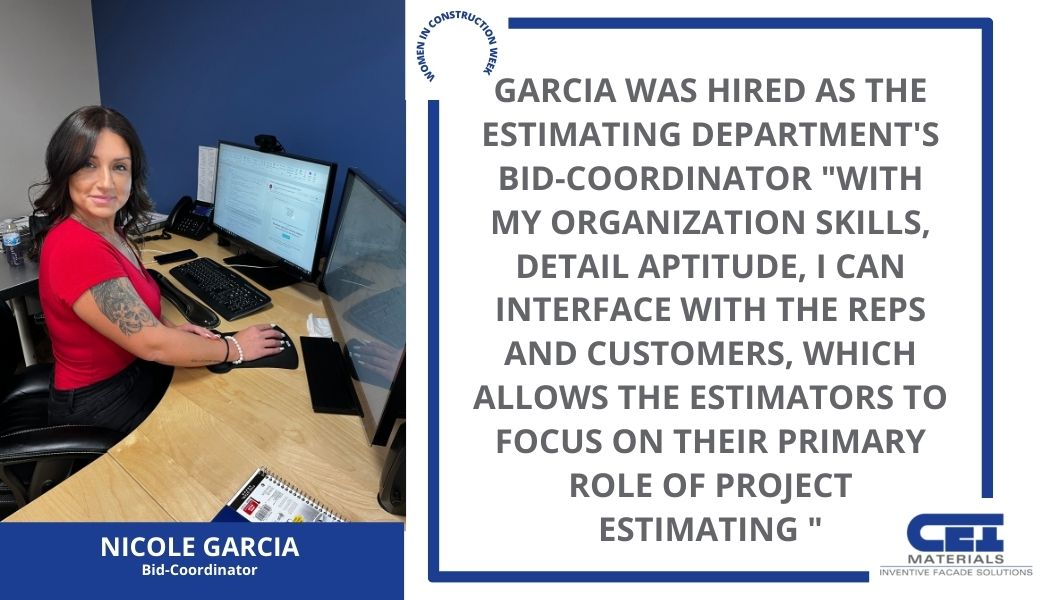 For instance, in the estimating department, Nicole Garcia was hired three years ago to the newly created position of Bid-Coordinator. Nicole came to CEI with a wealth of construction knowledge and expertise after working with a large commercial general contractor for several years. She describes, "My role here at CEI is to be the clearinghouse for all potential jobs coming in. With my organizational skills, detail aptitude, I can interface with the reps and customers, which allows the estimators to focus on their primary role of project estimating."
NAMWIC has shown that women have certain inherent traits over their male counterparts, such as organizational skills, multi-tasking, detail orientation, and are often better negotiators. Specifically, in the construction industry, they can come with little or no trade skill knowledge and therefore bring a new and enlightened series of perspectives to problem-solving.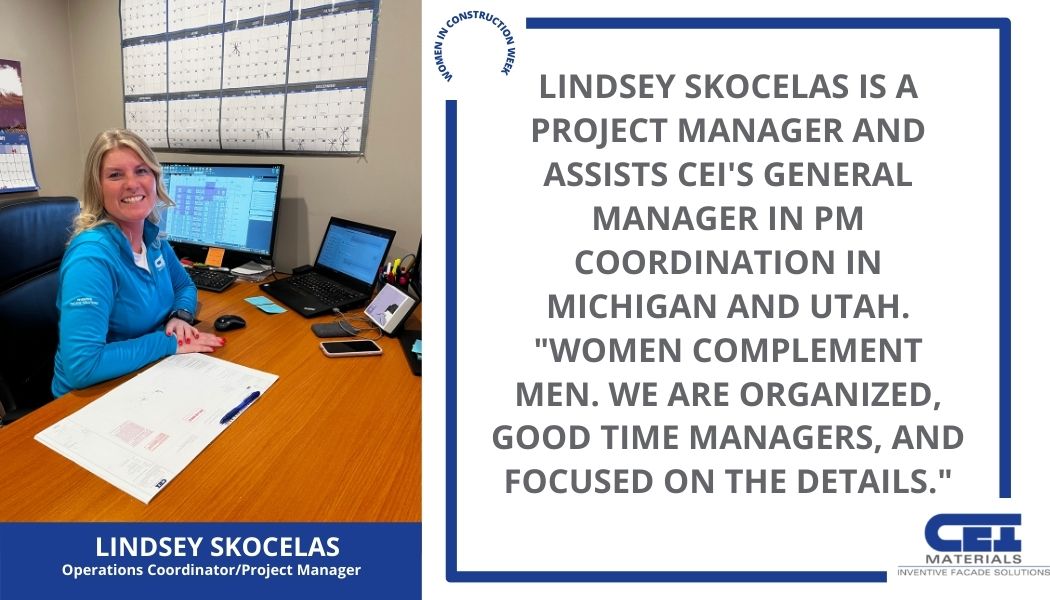 A department within CEI where women are tailormade for utilizing these traits is the area of Project Management. Project Manager (PM) Lindsey Skocelas came to CEI five years ago with no construction experience but a master's degree in business administration. Skocelas has seen personal growth as a woman at CEI Materials. She still retains her PM duties but now assists the GM in coordinating all the PM teams in both Michigan and Utah. Also, Skocelas is spearheading the implementation of CEI's new company-wide tracking system known as ERP. Skocelas and her Process Engineer counterpart are tasked with this new important project.
Skocelas states, "Women complement men. We are organized, good time managers, and focused on the details."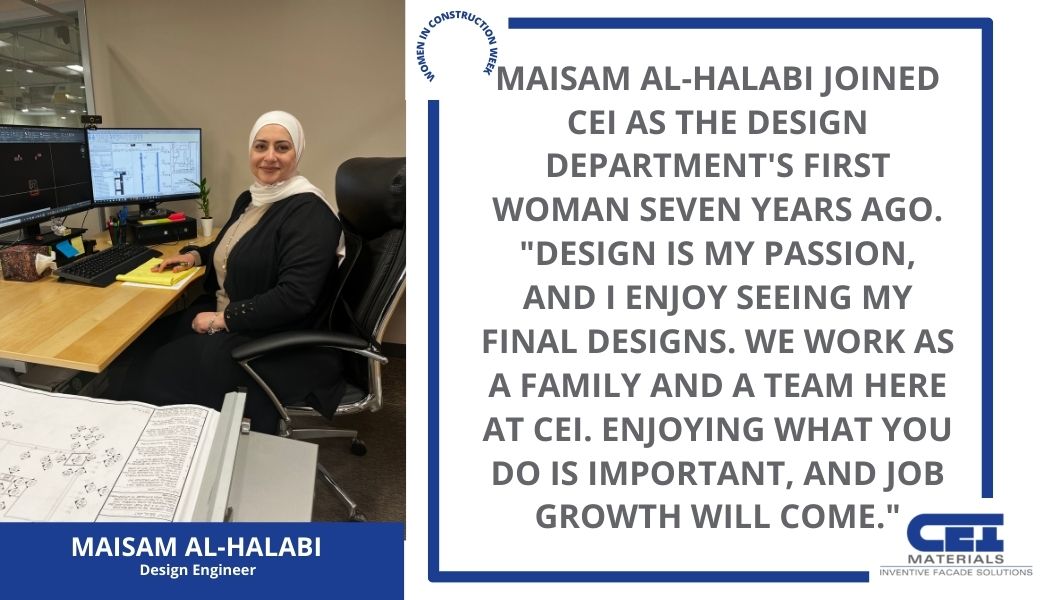 At CEI, the heaviest concentration of women is in the Design Engineering Department. Maisam Al-Halabi joined CEI as the department's first woman seven years ago. Al-Halabi has a well-rounded background in architecture and design, beginning at Damascus University in Syria and here in the US.
She describes, "Design is my passion, and I enjoy seeing my final designs. We work as a family and a team here at CEI. Enjoying what you do is important, and job growth will come." Al-Halabi believes that women have an essential role to contribute in the field of architecture and design and advises women new to the field, "Be yourself, do what you want to do, and you will be successful."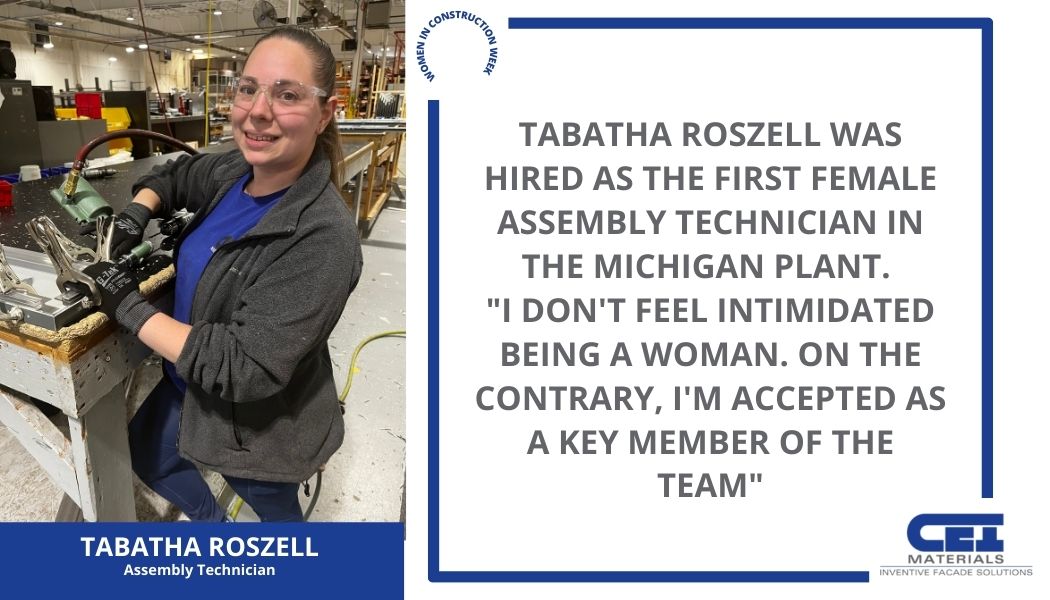 In keeping with CEI's shattering of the glass, ceiling recruitment is also focusing on the shop floor. About a year ago, CEI Materials hired Tabatha Roszell as the first female assembly technician in the Michigan plant. Roszell comments that she has been well accepted into the male-dominated production department. Explaining, "I don't feel intimidated being a woman. On the contrary, I'm accepted as a key team member. The men respect that I bring a different perspective to problem-solving, and I process things differently to them."
"My advice to women coming on the floor is to be motivated to do your best and don't be afraid to ask for help. I was just a number in my previous assembly line work, but here at CEI, you're part of a family. They saw potential in me and gave me a chance," Roszell further states.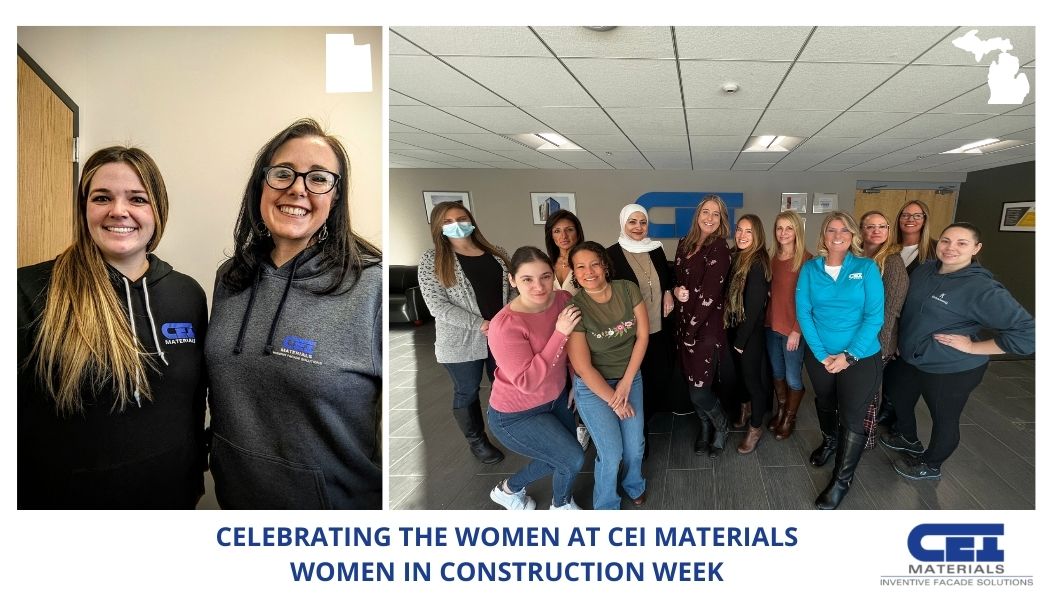 Jeff Henry, CEO of CEI Materials, explains, "Here at CEI Materials we are dedicated to building a diverse company that embodies and empowers all individuals to contribute in a meaningful way. A company should mirror the society in which it exists. From our creation we have looked to build a company that clearly projects our values and family credo in the workplace".