Stunning Potomac Ballroom Boasts Striking Exterior Design With The Help Of CEI Materials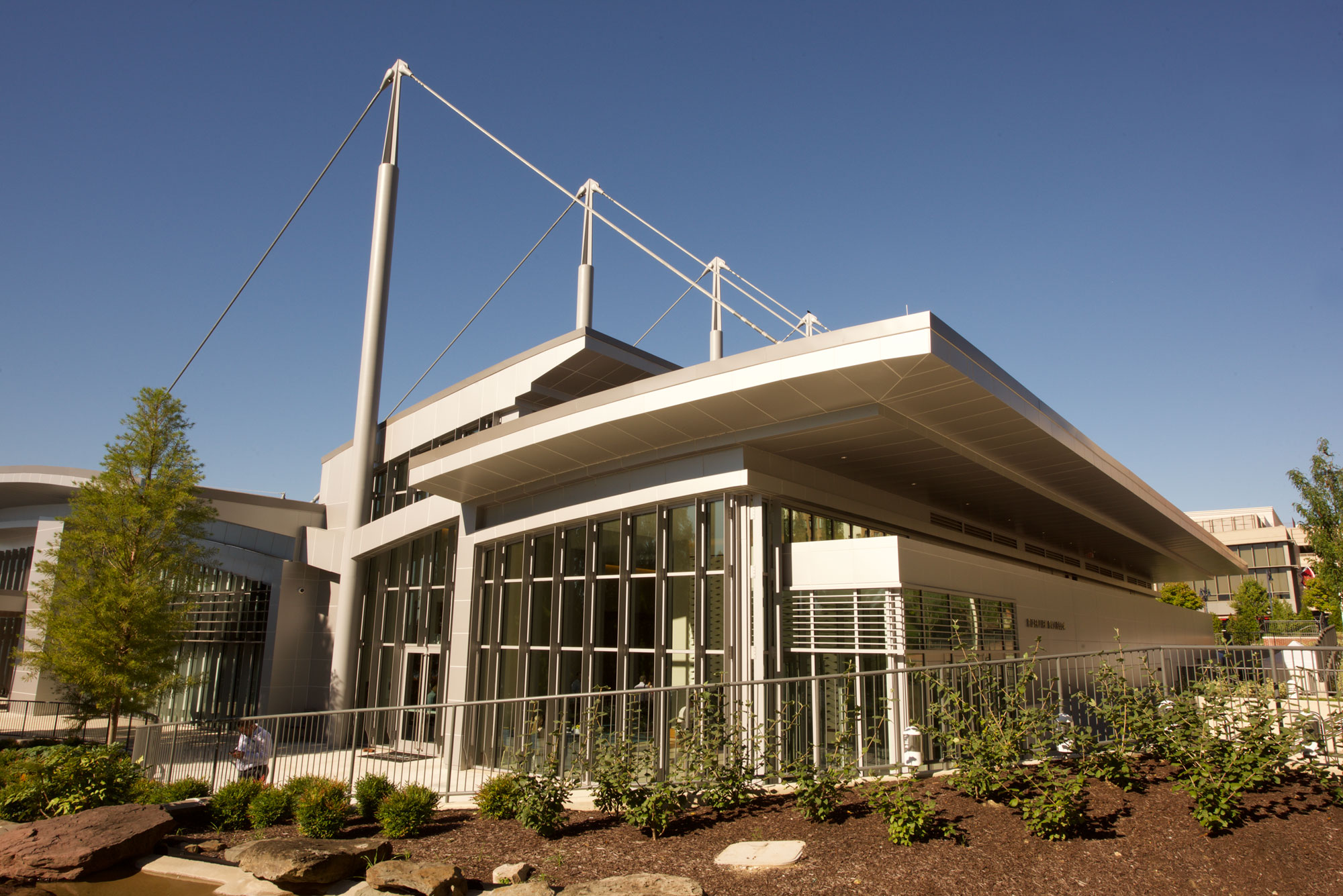 | | |
| --- | --- |
| Project Name: | Riverview Ballroom/Gaylord National Pavilion |
| Location: | Prince George's County, MD |
| Architect: | Blur Workshop |
| General Contractor: | Clark Construction Group |
| Installer: | Supreme Metal Solutions |
| CEI Materials System: | W5000 |
| Products: | MCM |
| Photography: | CEI Materials |
The recently completed Riverview Ballroom is a contemporary addition to the renowned Gaylord National Harbor Hotel and Convention Center in Prince George's County, Maryland. The $25 million extension opened this year as a free standing meeting space, utilized for private events.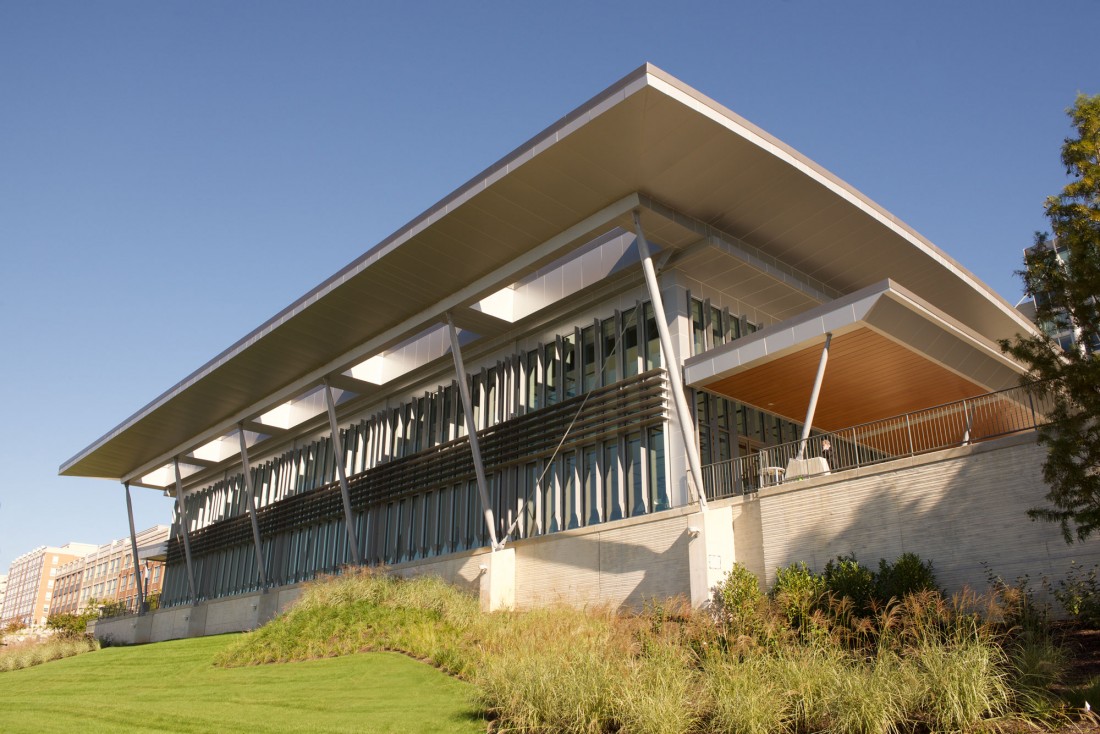 "The design features a curved roof supported by a mast and rigging structure, referencing the nautical history of the Potomac. The 16,000 square foot meeting space sub-divides into eight different configurations, allowing for maximum flexibility," describes the architects at Blur Workshop.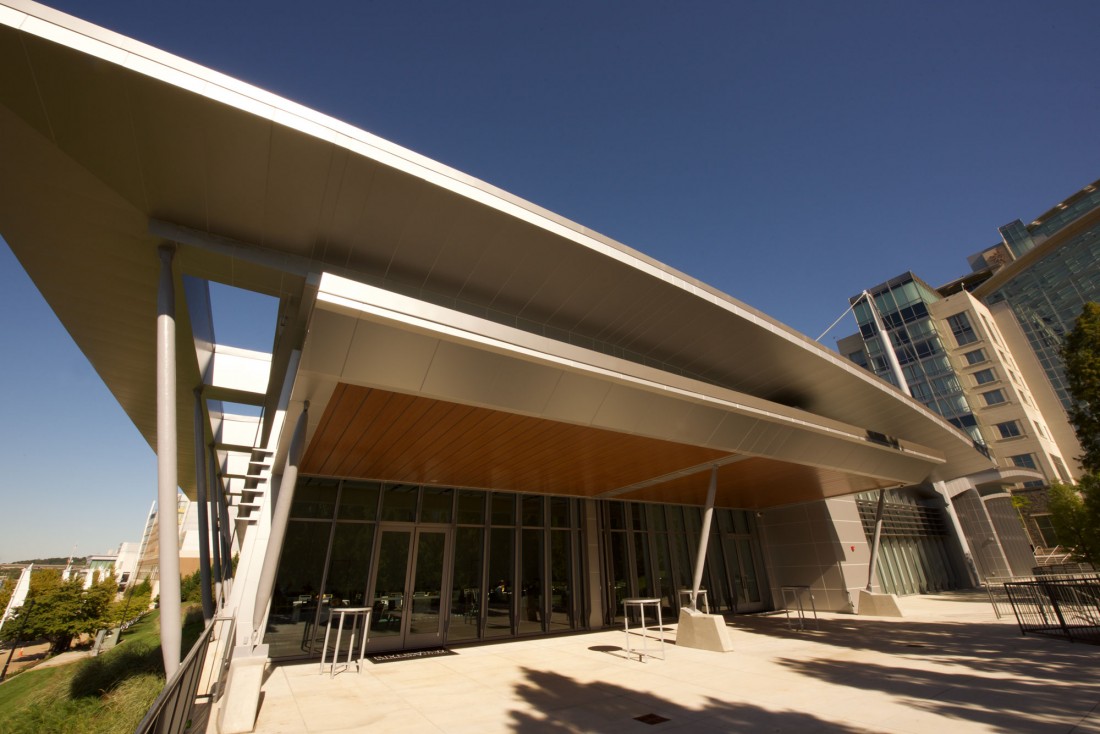 One feature of the exterior's striking design is the floor to ceiling glass windows that allow an unobstructed 270-degree view of the Potomac River.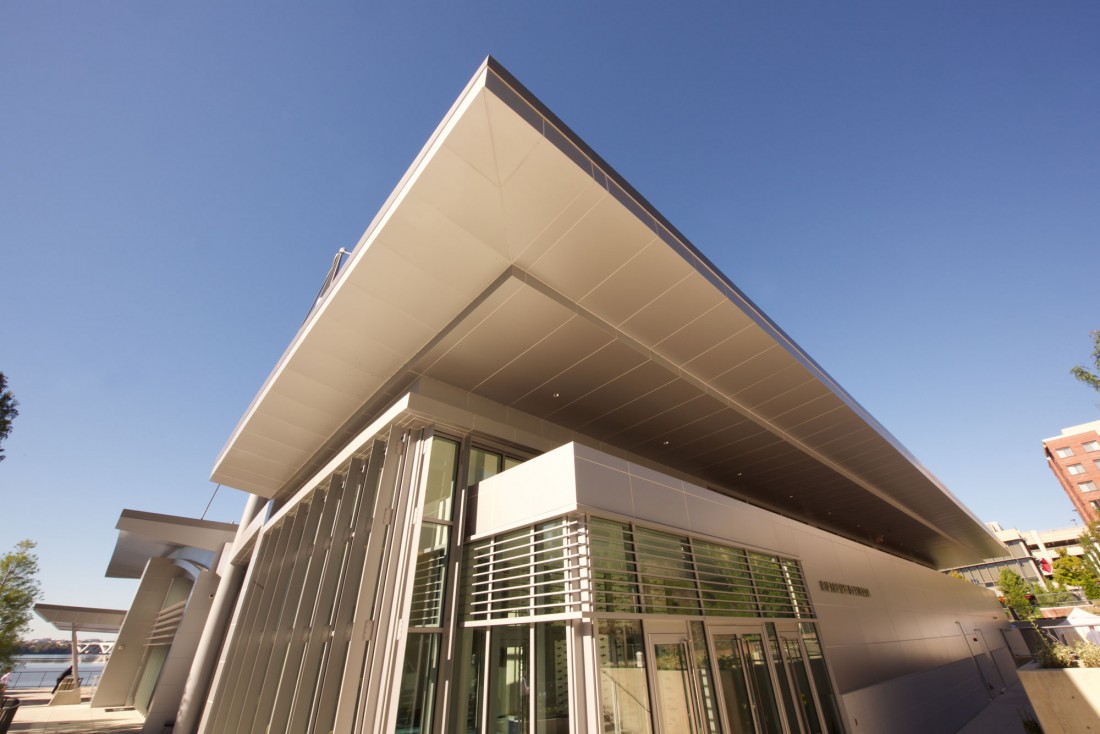 Representatives from Clark Construction Group explain, "The ballroom provides spectacular views of the Potomac River, Capital Wheel and Woodrow Wilson Bridge. The steel structure reflects the nautical history with six 70-foot masts connected to sweeping metal panel canopy roofs supported by stainless steel cables."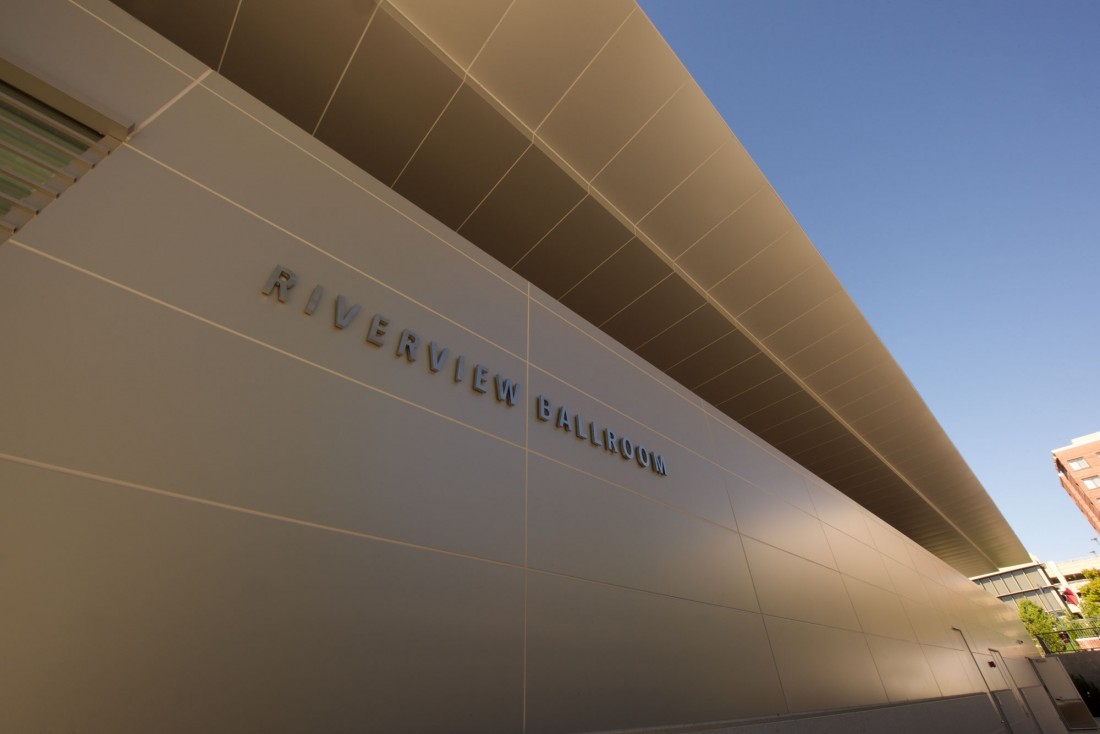 CEI Materials worked closely with the designers and general contractors to fabricate the 26,000 square feet of metal composite material (MCM) used on the exterior. The two MCM finishes from Arconic's Reynobond are Silversmith and Italian Walnut, providing a beautiful juxtaposition between the modernity of metal and the warmth of wood. The panels were fabricated utilizing CEI's custom W5000 Route & Return Silicone Joint Panel System.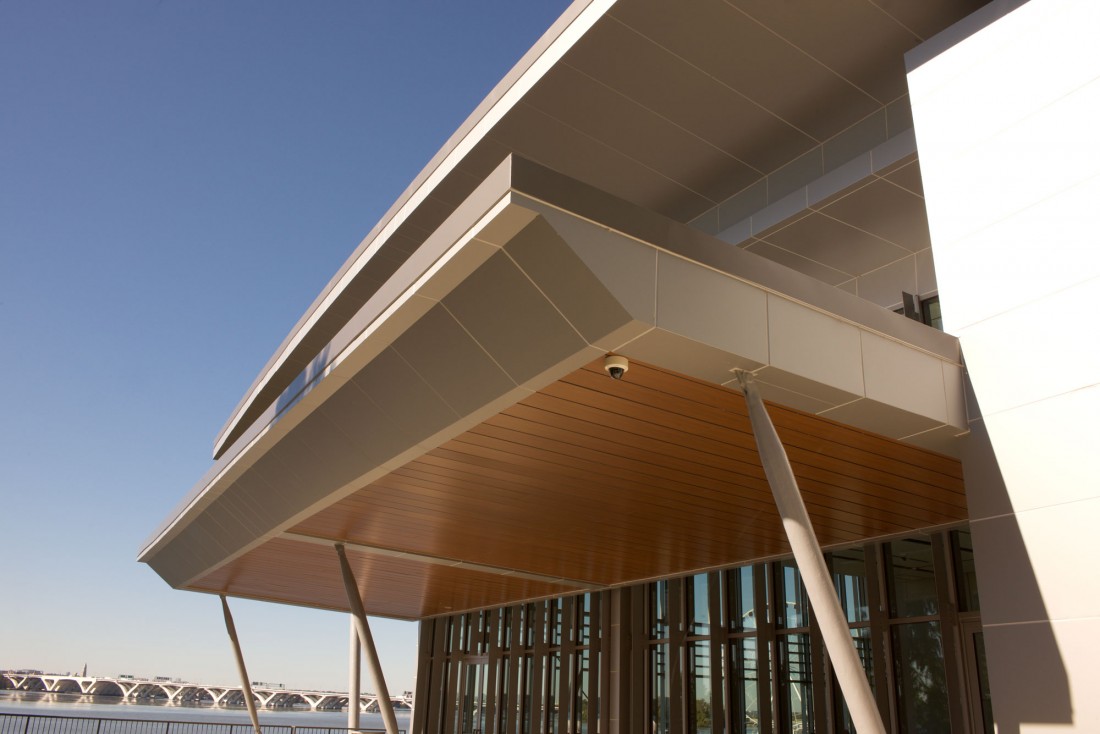 CEI Materials employed their 3D laser technology to scan the building prior to fabrication, allowing unbeatable accuracy for installation. This process was especially important for this particular project where the arched soffits were challenging. Project Manager at CEI Material Nicholas Sodt describes, "Another challenge was the very aggressive time requirements. The project in all aspects; design, fabrication and installation, was completed in just 14 weeks."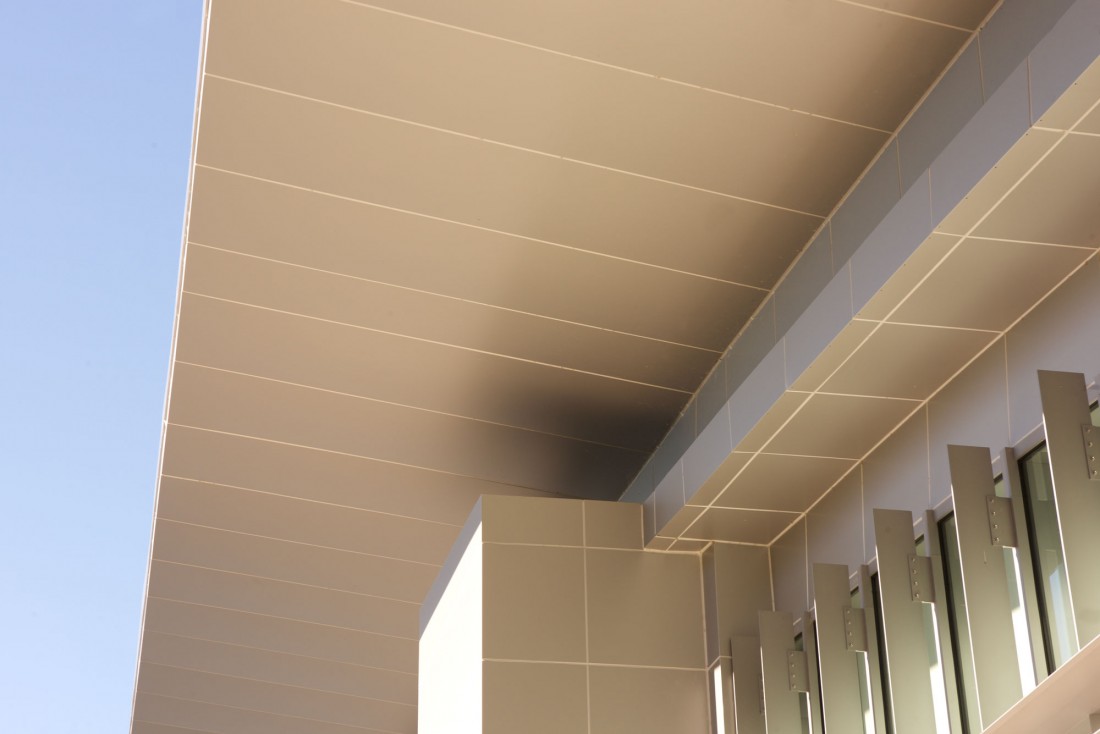 Doug Ridge, Gaylord National Resort's general manager states, "The design of Riverview Ballroom has exceeded our expectations. We have seen a positive response from our customers and believe this venue will be a premier location for upscale events in the Capital region."