Architects Design Modern Pedestrian Bridge For Michigan Hospital Staff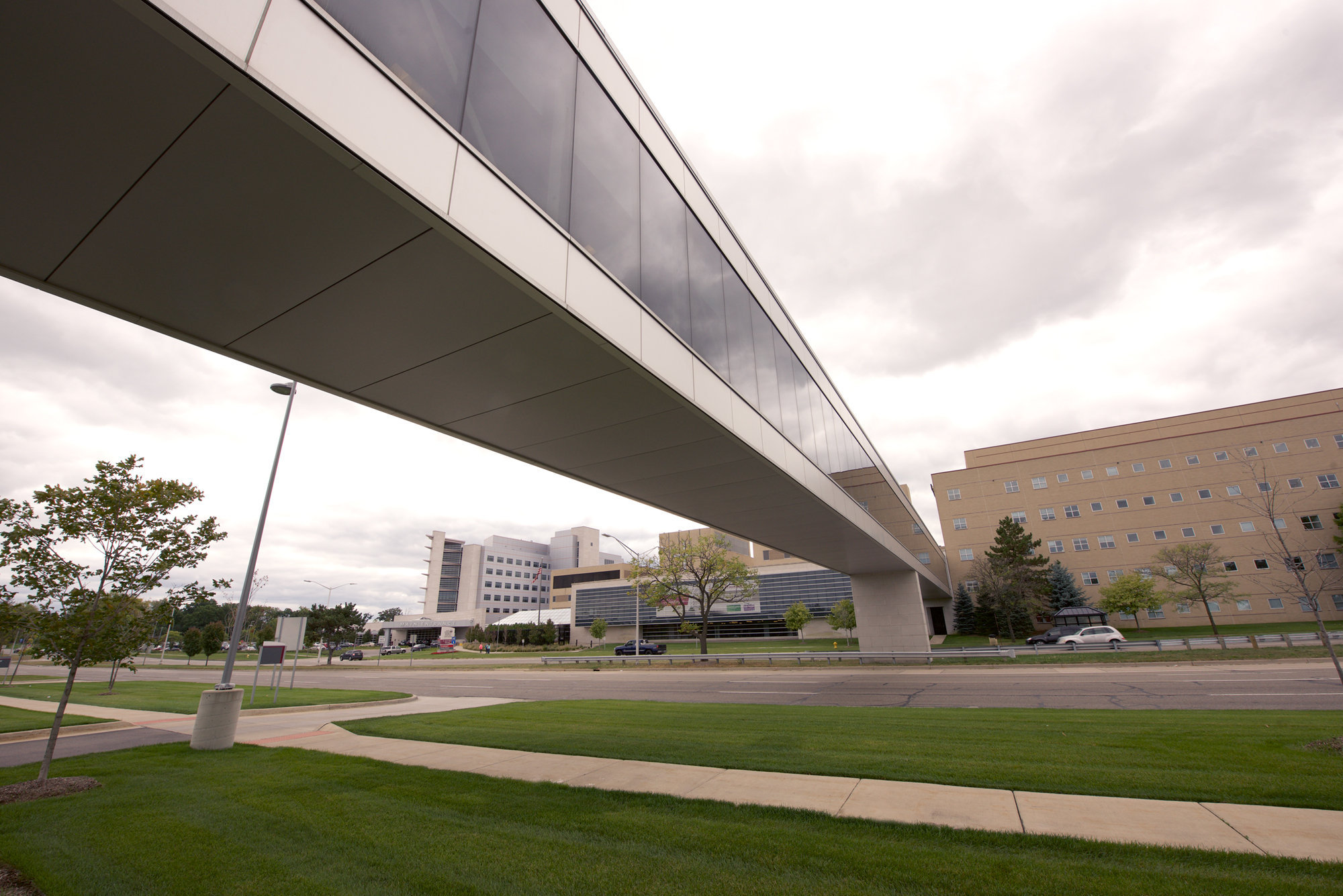 | | |
| --- | --- |
| Project Name: | St. Joseph Mercy Oakland (SJMO) Pedestrian Bridge |
| Location: | Pontiac, MI |
| Architect: | HKS Architects |
| General Contractor: | Barton Marlow |
| Client: | Madison Heights Class Company |
| CEI Materials System: | R4000 |
| Products: | metal composite material |
| Photography: | CEI Materials |
St. Joseph Mercy Oakland (SJMO) in Pontiac, Michigan is a teaching medical facility established nearly a century ago. Providing comprehensive medical care for Oakland County, the hospital is a member of the established Saint Joseph Mercy Health System. Back in 2006, a "regeneration" plan was initiated with a series of planned enhancements over the next decade. In addition to the renovation of the physical facility, an intensive reorganization plan was established as well as a means of improving the internal functionality of the hospital.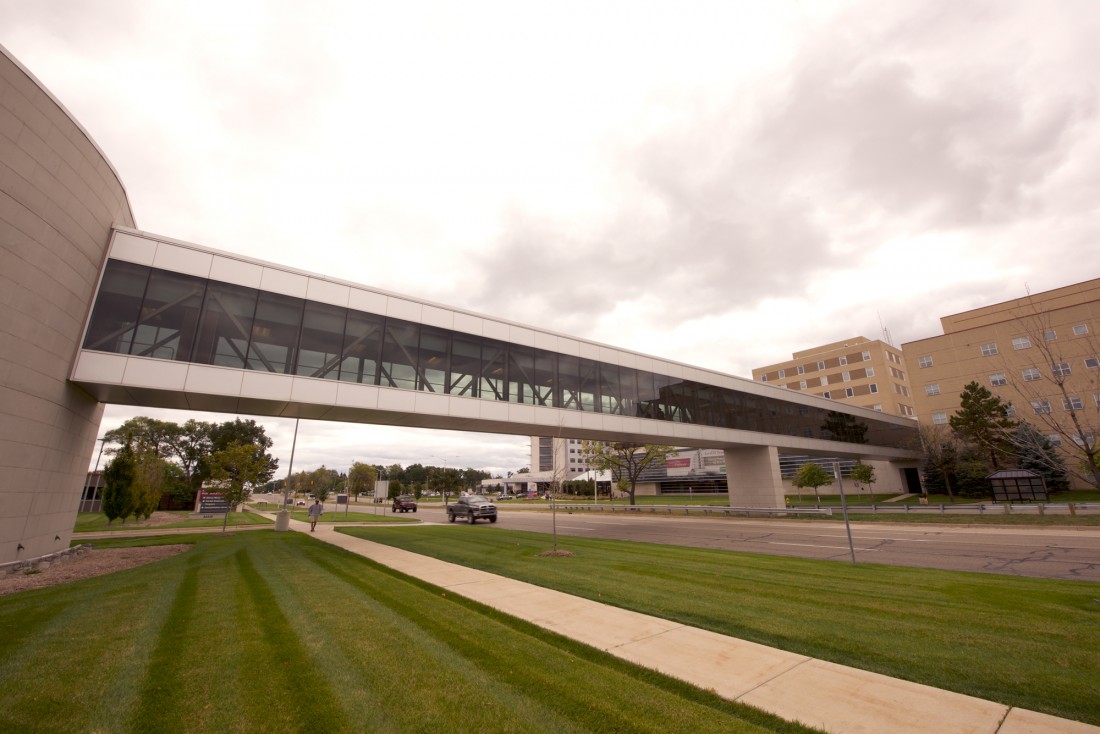 One of the physical enhancements was the construction of a new pedestrian bridge that is used primarily by hospital staff. Interestingly, the bridge's interior features pillars that are painted with different motivational or inspiring words to be viewed when entering and exiting the facility. Upon entrance, the staff is greeted by words such as compassion and excellence while upon exiting, words like cherish and relax promote SMJO's commitment to a balanced life.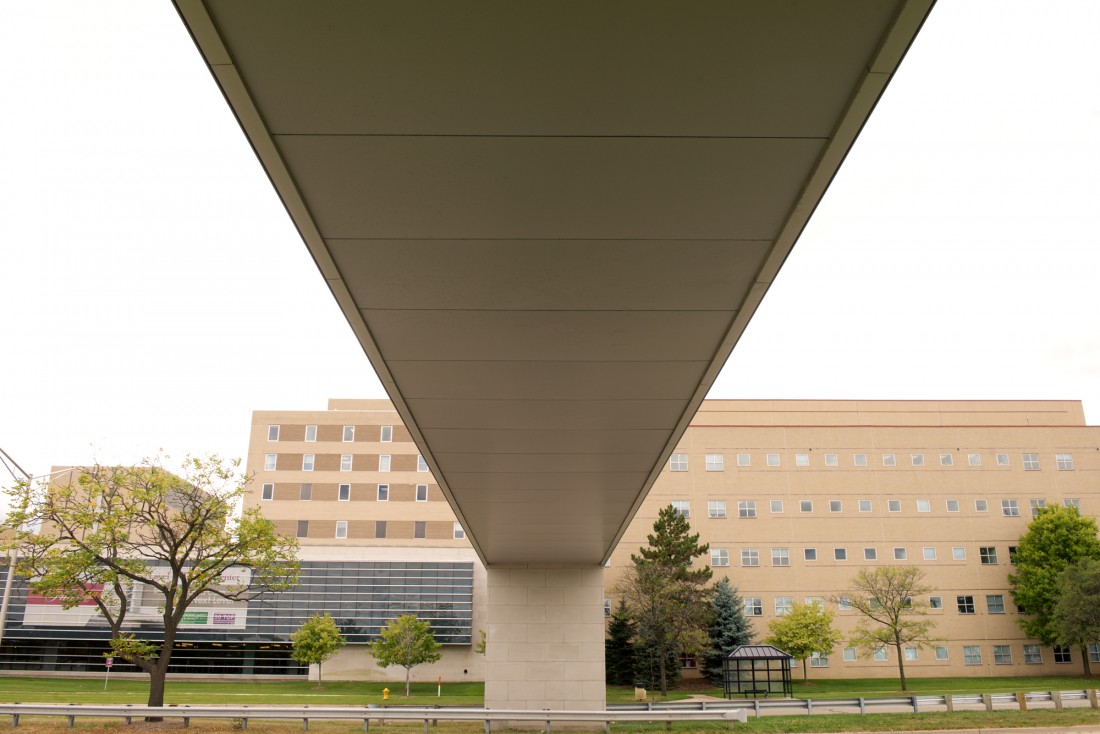 HKS Architects were responsible for both the interior and exterior design elements. General Contractor, Barton Marlow, of Southfield, Michigan spearheaded the 300-foot bridge construction. Ideal Contacting provided the structural fabrication and installation of the bridge, which provides safer and more convenient access to the facility from the employee parking structure.
CEI Materials worked closely with Madison Heights Class Company to fabricate the enveloping metal composite material. Utilizing the R4000 Drained Rear-Ventilated Rainscreen System, CEI Materials helped produce the hospital's modern addition. With darkened glass, the bridge allows unobstructed views and an influx of natural light to the interior while providing safety and security for the staff walking to and from their parking structure.
In a structural redesign each element serves a function to enhance the facility for its patients and staff. Bridges have a unique function in a hospital, as the first entry and last exit point of the day; the addition of inspirational words offer solace to the busy medical professionals inside.