LEED Gold Mixed-Use Residential Building Features A Variety Of Modern Metal Components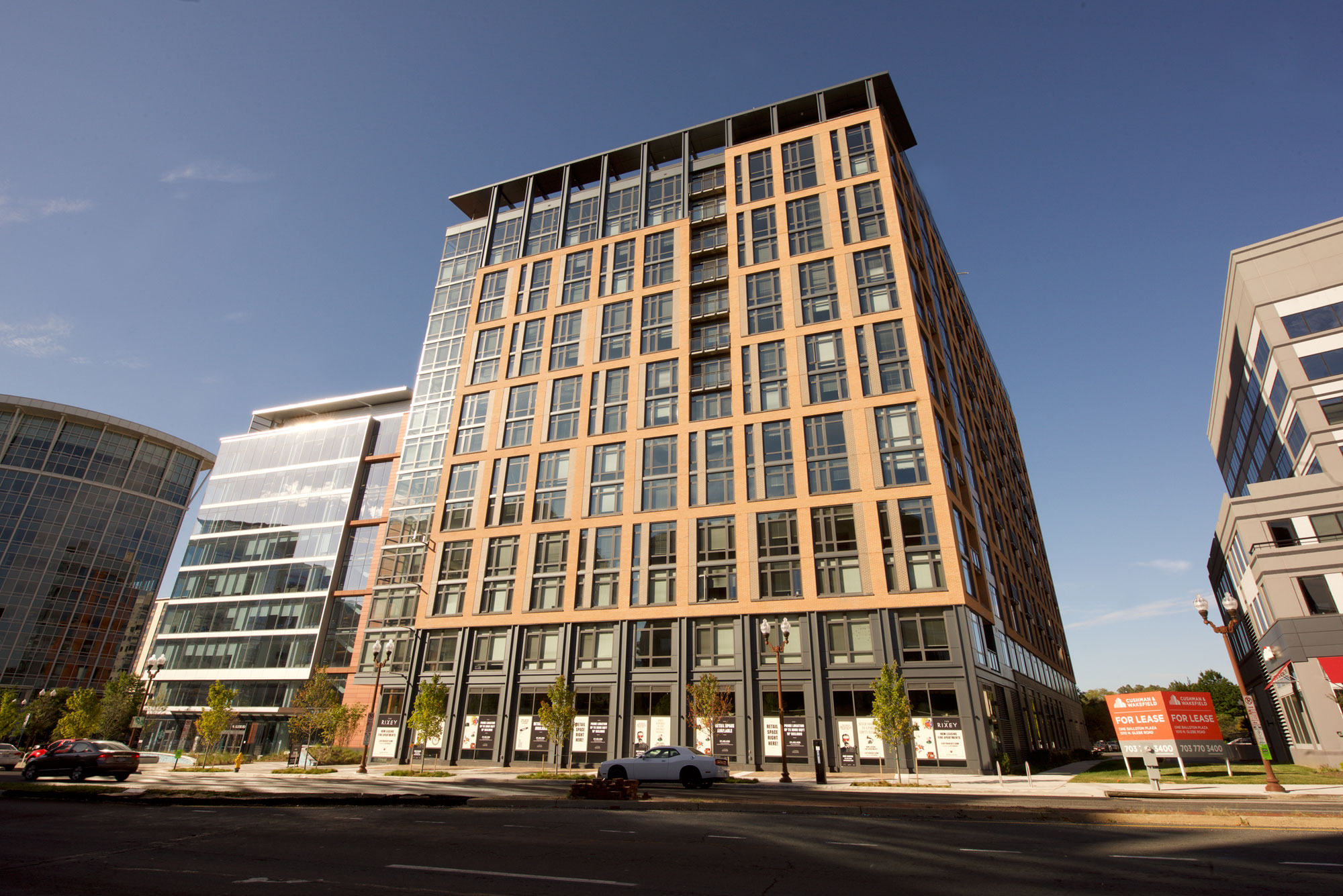 | | |
| --- | --- |
| Project Name: | The Rixey |
| Location: | Arlington, VA |
| Architect: | SK+I Architecture |
| General Contractor: | Clark Construction Group |
| Installer: | Dinamic Erectors |
| Sealant Subcontractor: | Chamberlin-Washington, Inc |
| CEI Materials System: | R4000 |
| Products: | MCM, Single Skin, Screen Wall |
| LEED Certification: | LEED Gold |
| Photography: | CEI Materials |
The Rixey is a 15-story, 265 unit apartment complex in Arlington, Virginia. Designed by SK+I Architecture, the building is leased from Marymount University who own the property just next door. In addition to residential and retail spaces at the Rixey, they also offer Marymount graduate student housing as well.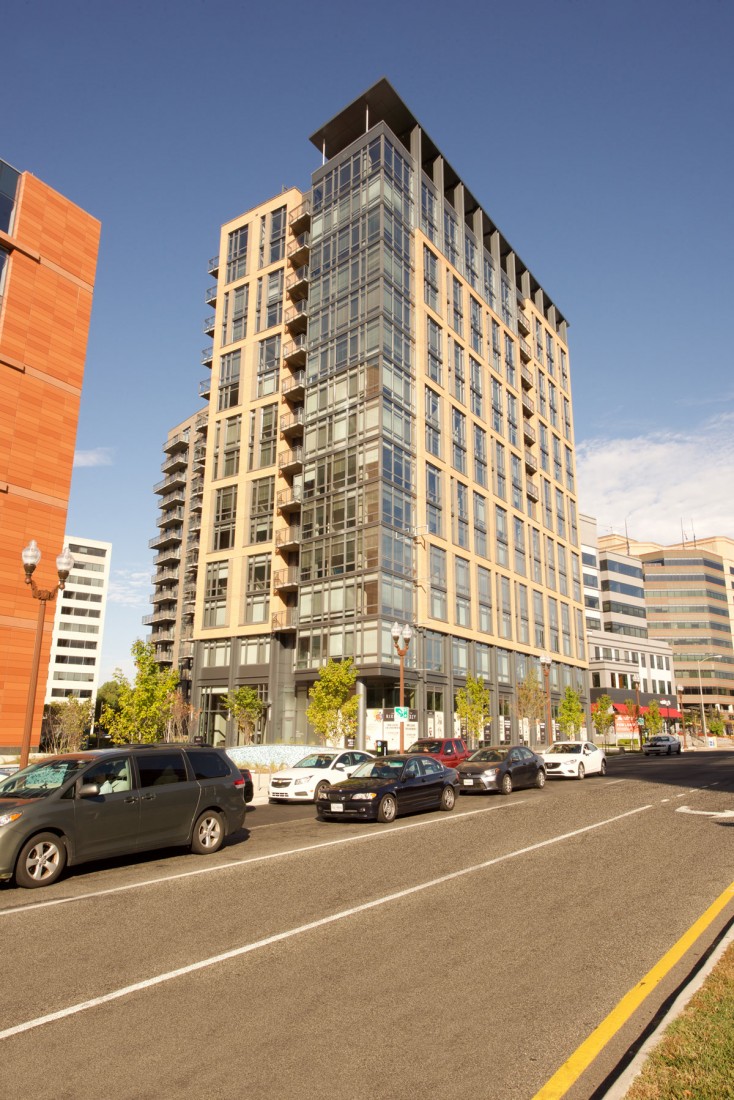 The connected academic structure was designed by Gensler architects and is used for a variety of Marymount Schools including the School of Business Administration, School of Education & Human Services, and the office of Graduate Enrollment Services. Both projects achieved LEED Gold certifications upon completion.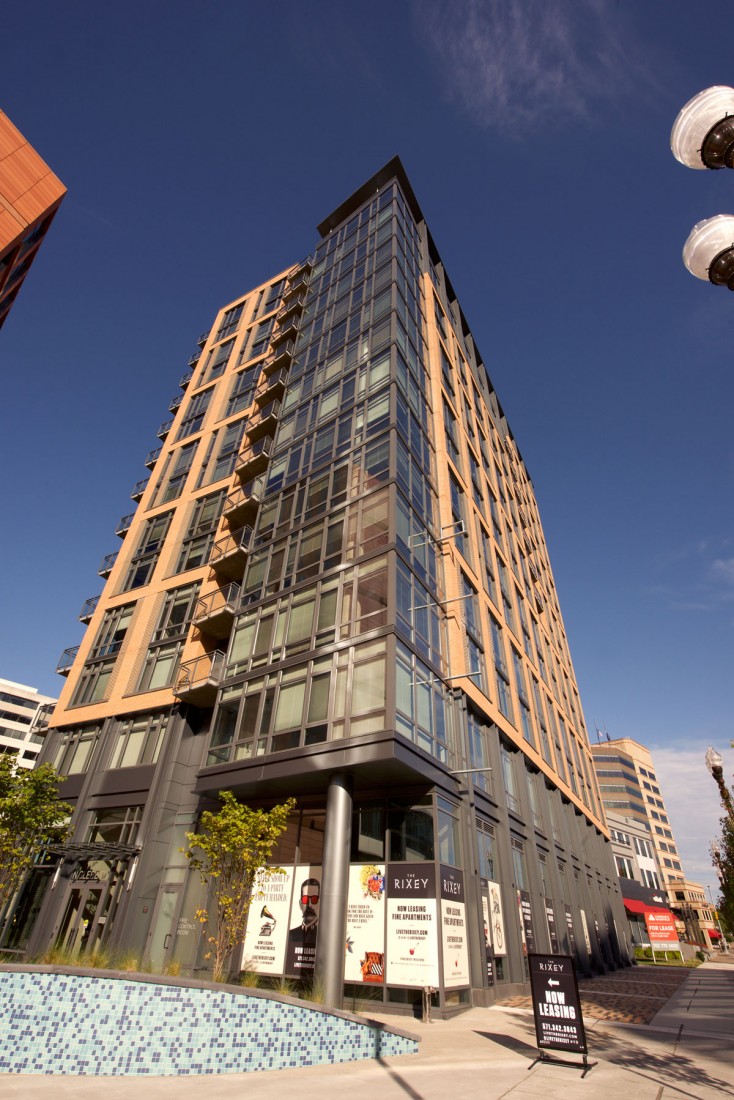 The Rixey was named after Admiral Presley M. Rixey, the famous personal physician of past American presidents. Rixey was also the owner of the renowned Main House on Marymount's main campus.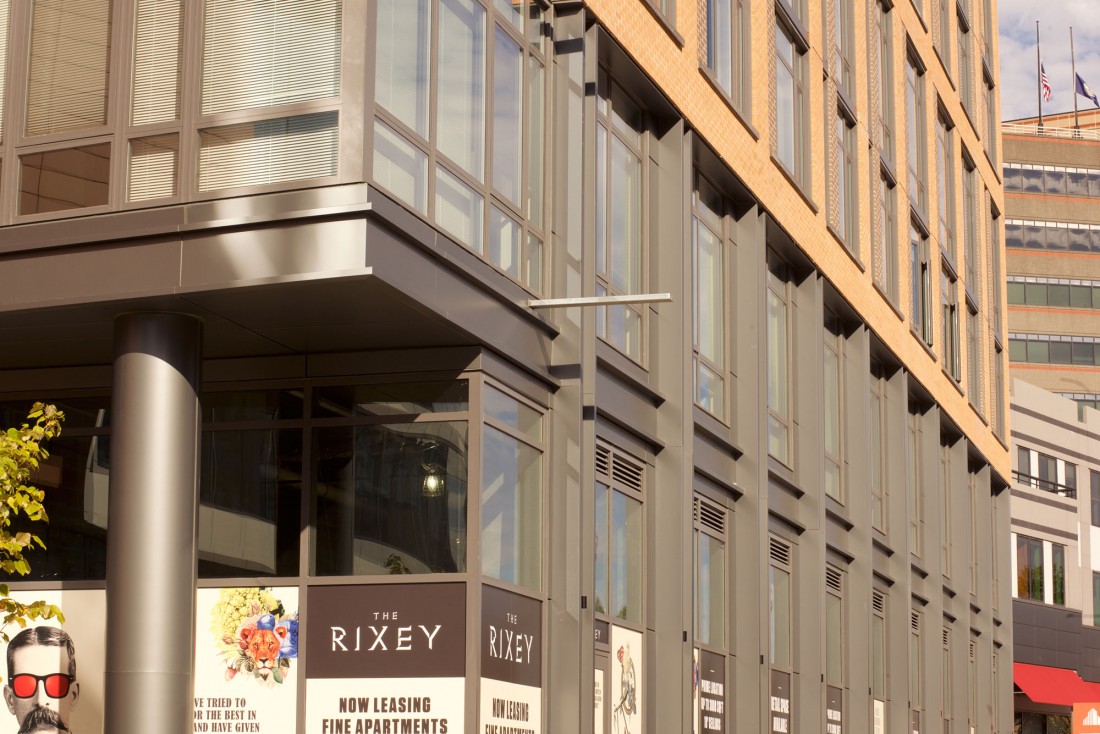 Developers, the Shooshan Company (TSC), own the mixed-use residential high-rise. The team won an open competition between 12 top development firms in DC to obtain the property. The 265 available units at the Rixey range from studio to two-bedroom options. The representatives of TSC describe, "The Rixey combines a vintage Americana aesthetic with luxurious amenities, a prime location, and incredible 360 views of both Virginia and DC."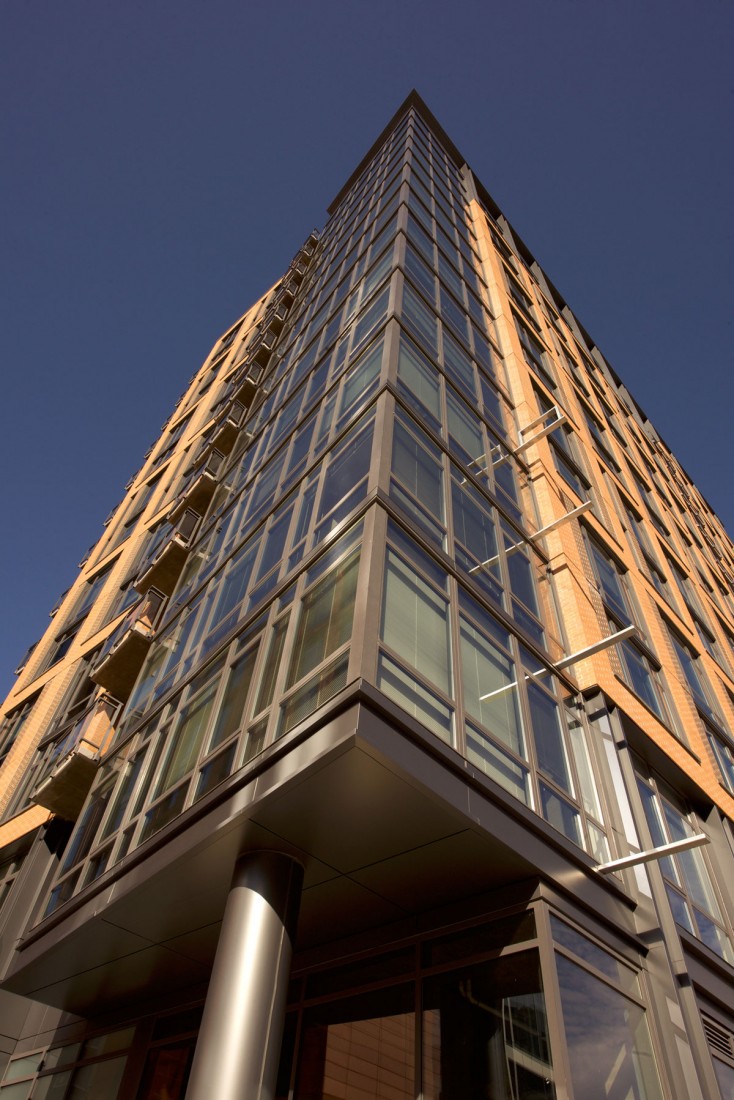 The building features a variety of exterior metal components including over 16,000 square-feet of fire-rated metal composite material in a Pewter finish. Additionally, the project utilizes 10,000 square-feet of corrugated single skin panels and 1,000 square-feet of break metal coping. The metal components were fabricated by CEI Materials using the customized R4000 rear-ventilated rainscreen system. CEI also installed over 250 square-feet of architectural louvers.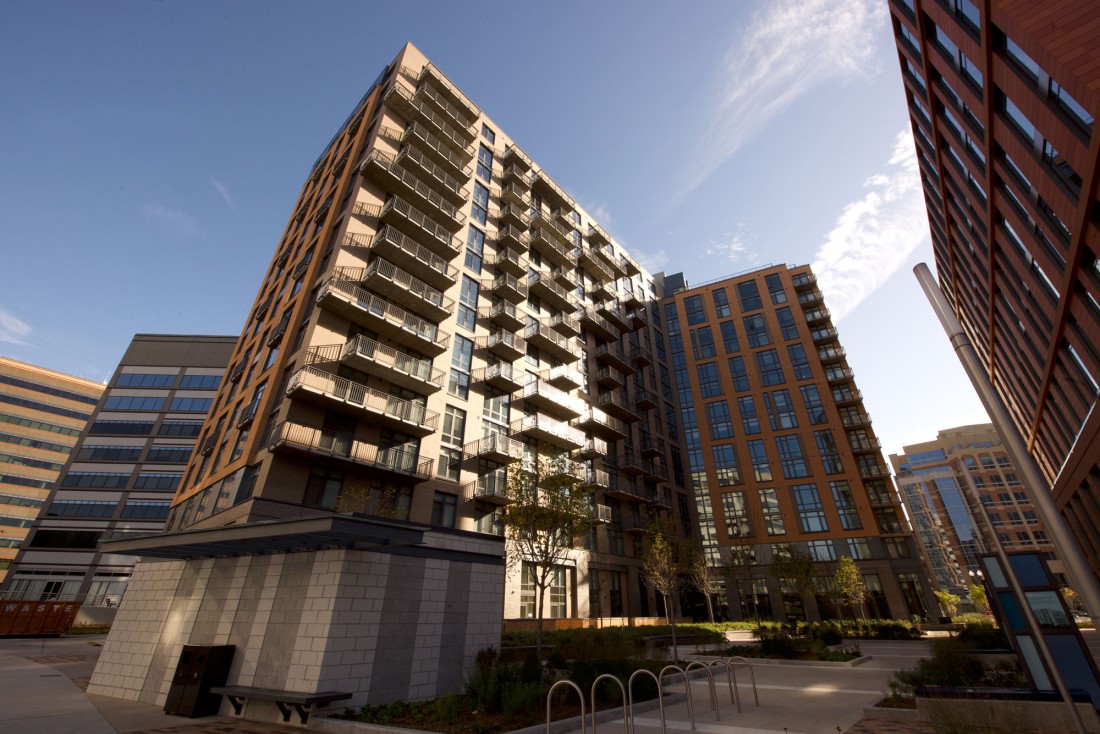 CEI remains involved from the design of the system components through their installation, overseeing a variety of potential challenges throughout the entirety of construction.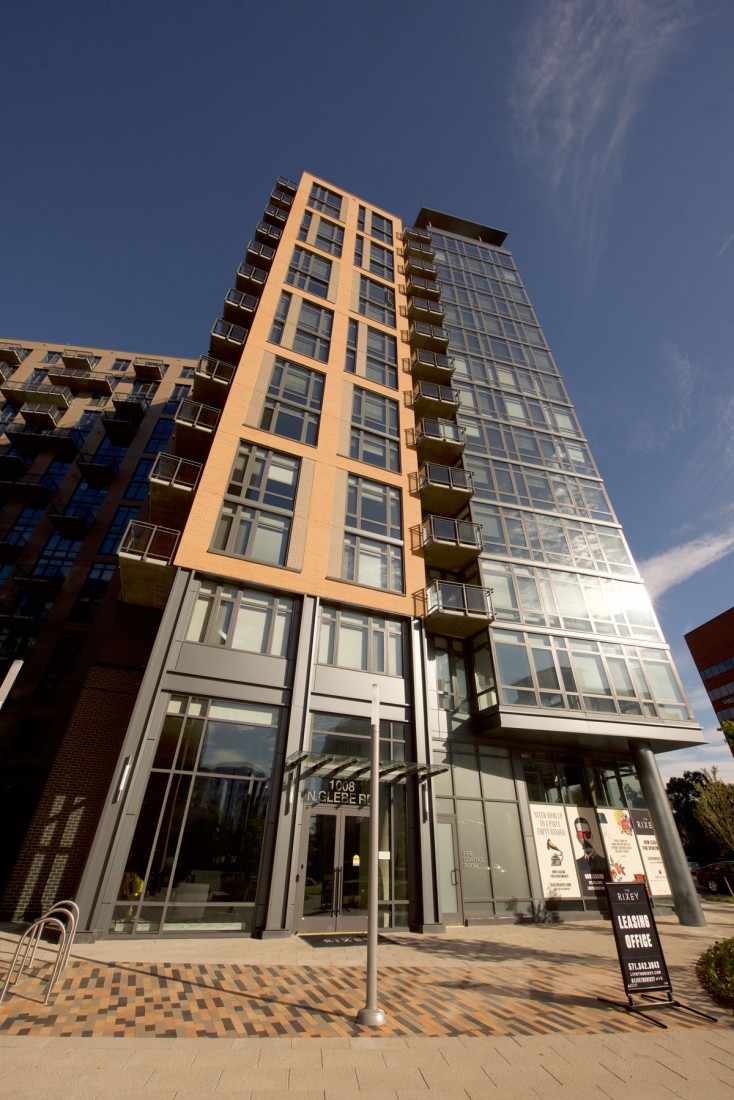 CEI Materials' Project Manager, Garrett Harris, describes, "From a design perspective we faced a challenge in taking a three-part C-shaped building profile and making sure the parts came together as desired. This was important at the first and second floor vertical columns and also at the 13th and 14th floor, which tied into the C-shaped profile on the trellis at the 15th floor."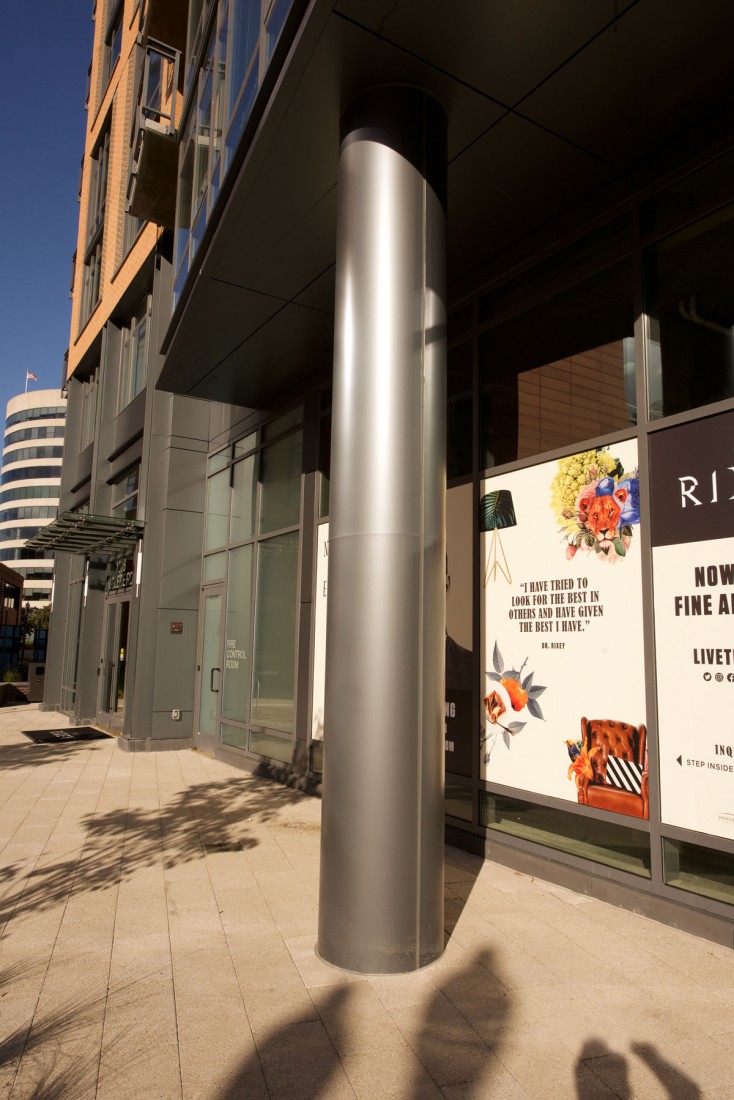 Harris further explains, "Accessing the fascia panels on the trellis was a challenge faced during installation. With tight site access and no access to the area via swing stage, it took planning and coordination between the general contractors at Clark Construction and various other trades to access the area."
Interestingly, the Rixey is one of the two buildings replacing the demolished Blue Goose, given its name for its distinctive blue exterior panels from which the new glass and Pewter structure offer a much more modern feel.