What Contributes To The Automotive Markets Consistent Brand Image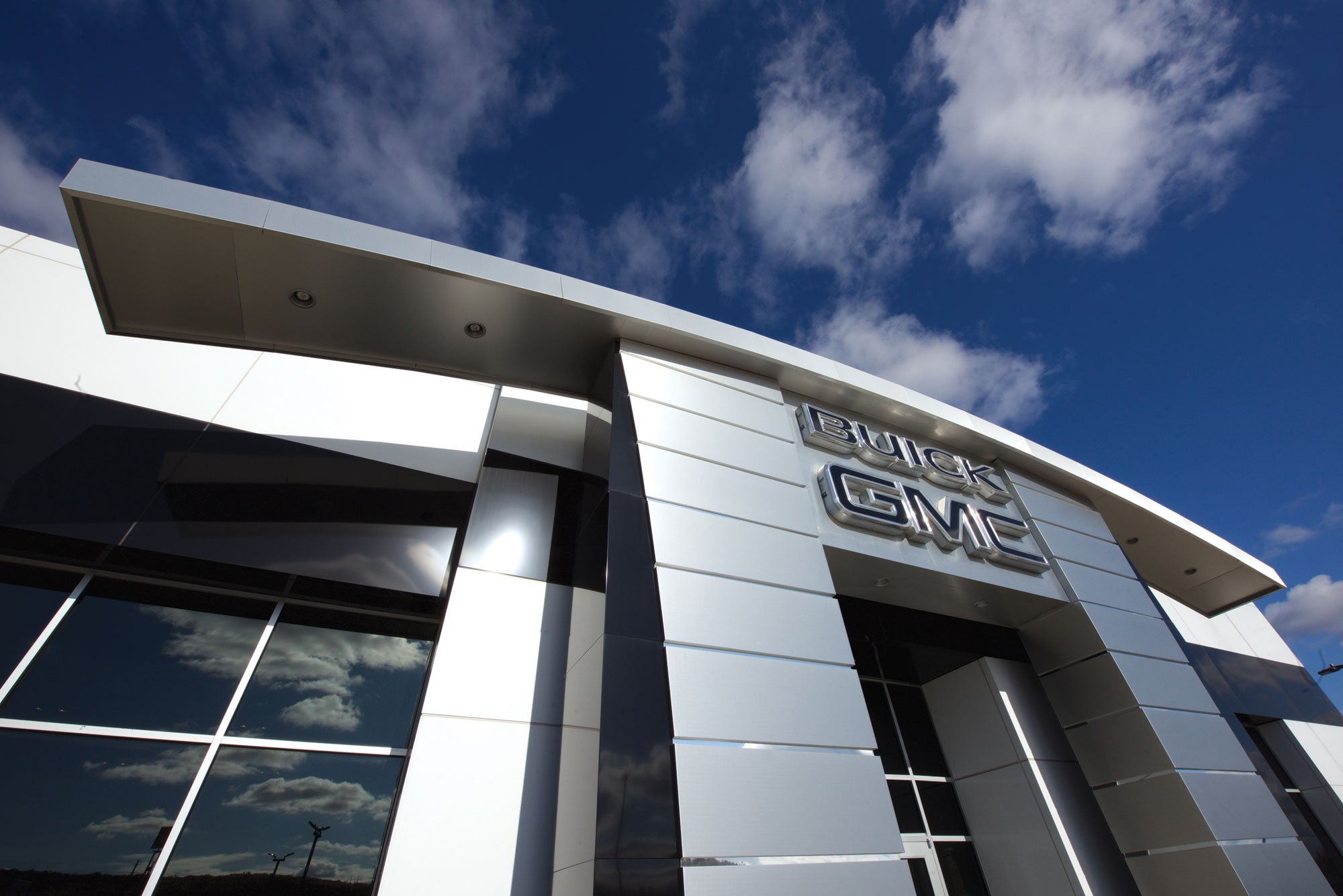 Revised March 18, 2022, in Shop Talk
How do you create and maintain a brand image? What makes a corporate identity truly recognizable?
One of the most recognized standouts of the corporate identity market is the automotive design industry. Auto moguls like Chevrolet, Nissan, Toyota, Buick, Hyundai, and Ford produce the most consistent and most recognizable brands in the world. This is due in part to their consistent utilization of signature colors and modular fabrication techniques.
In fact, the signature colors of automotive brands are so important that aluminum composite manufacturers have custom color lines dedicated to these brands. By producing custom color options that directly match the brand guidelines, manufacturers can stock them in-house for shortened lead times. A brand's colors enable image compliance for a national program. Another all-important component of compliance is modularization.
Components of Aesthetic Appeal & Memorable Branding
Aesthetic value is more integral to brand identity than you might think. The key elements of visual aesthetics are:
color

shape

pattern

line

texture

balance

scale
The above elements can help you create a memorable logo or space, but to truly stand out and inspire loyalty, your brand also needs to be:
consistent

unique

memorable
Everything from the logo to the fonts to the exact color palette should stay consistent across all your projects and physical spaces.
Furthermore, "aesthetic appreciation" isn't just applicable to artworks; consumers make aesthetic judgments whenever they are considering a purchase.
In fact, visual appeal is significantly correlated to perceived usefulness. "Beautiful" objects and products are perceived as easier to use and of higher value than less appealing ones, even if there's evidence to the contrary. The more eye-catching a book cover is, the more interesting we assume the story inside will be. This phenomenon is known as "aesthetic-usability." (Of course, a buyer's cultural background, mental health, taste in art, and many other aspects will influence the individual aesthetic judgments they make.)
How do these philosophical considerations apply to automotive showrooms and convince someone to buy a new car? Let's take a closer look.
How CEI Boosts the Aesthetic Quality of Auto Dealerships
Over the years, CEI Materials has partnered with numerous car dealerships to create enticing exteriors. Our pre-engineered structures are produced off-site and enable a plethora of benefits in this market including shortened lead times, lower costs, and drastically reduced on-site waste. In addition to cladding, these prefabricated structures also include large exterior components such as entryways.
Modularizing structures allows for the use of the same material and system producing a consistent result. This type of engineering leaves little room for human error, as the design has been effectively proven prior to assembly in a controlled environment. The ability to construct exterior components off-site allows for these elements to be designed, tested, fabricated, and engineered independently to save you time and money.
CEI Materials is a leader in the automotive market, specializing in the fabrication of modular entry elements in-house. This expertise has been seen across the nation, focusing on ensuring a compliant result.
CEI always certifies that your design intent is preserved by our compliance with the requirements of the guide specifications as stipulated by the client. We achieve this through effective communications and by producing designs that adhere to or exceed the metal panel façade/cladding specification standards for each and every CID program.
Our services include:
To view examples, check out our automotive industry project gallery.
How to Add Aesthetic Value to Automotive Showrooms
Aesthetic values play an important role in appealing to consumers, from sparking their interest to closing a sale. New cars are important milestones — and they themselves are an aesthetic experience that becomes part of a customer's daily life.
CEI's inventive facade solutions can be used to enhance the interior and exterior of a building. For dealerships, the use of our custom exterior panel cladding and column covers elevates the appeal of the vehicles in your automotive showroom. Strong design choices that carry through into your physical buildings give your brand a sense of cohesion, bring in new customers, and ultimately boost sales.
Whether you have one location or thousands, your brand identity is safe with CEI Materials. To request a bid and learn more about how CEI Materials can make a difference for your car dealership, contact us today!
photography © CEI Materials