Automotive Dealership Is Truly Contemporary With An Array Of Solar-Powered Environmental Initiatives Throughout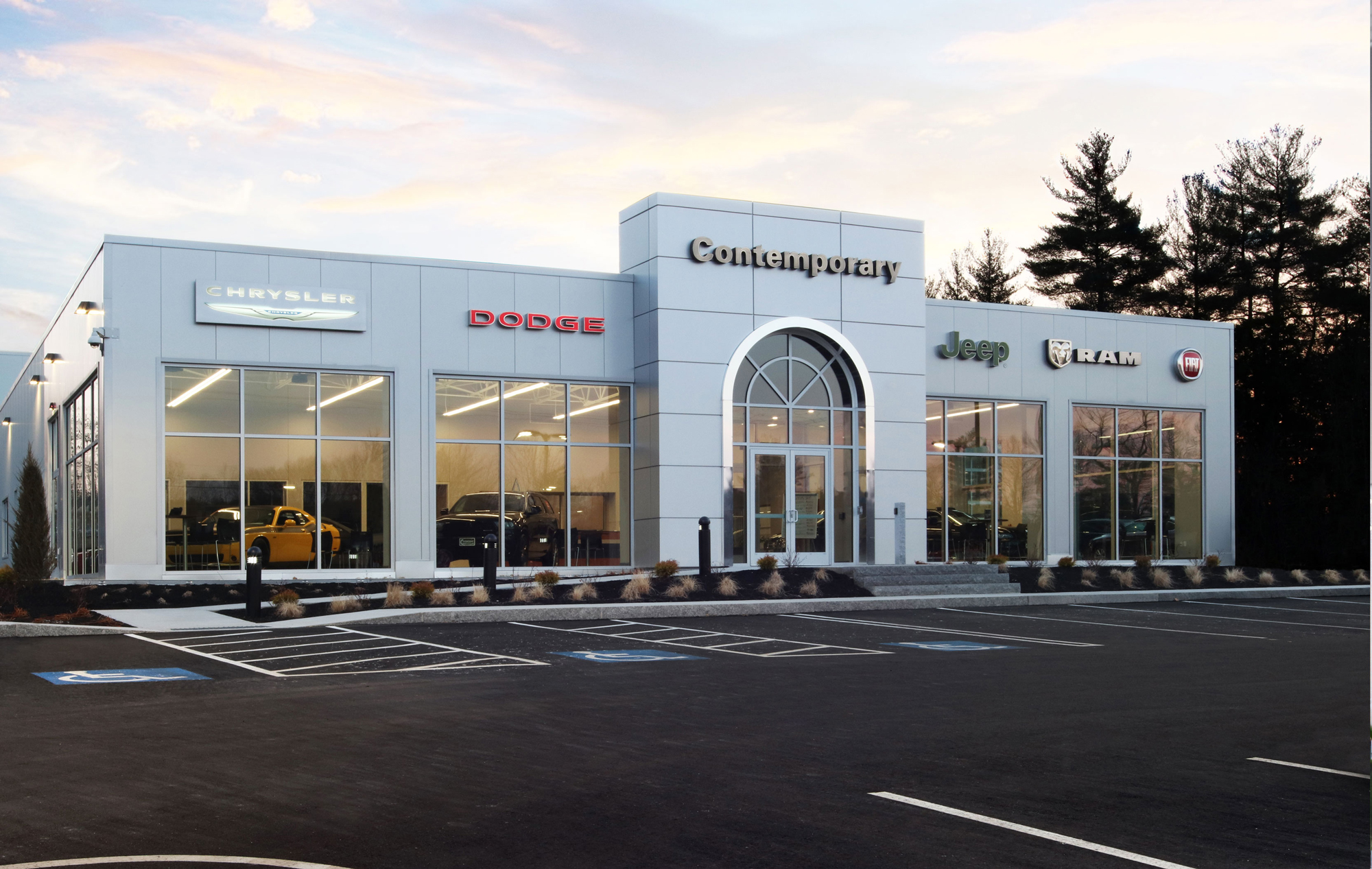 | | |
| --- | --- |
| Project Name: | Contemporary Automotive |
| Location: | Milford, NH |
| Architect: | Warrenstreet Architects |
| General Contractor: | Turnstone Corporation |
| Client: | Exterior Designs Inc |
| CEI Materials System: | R4000 |
| Products: | Metal Composite Material (MCM) |
| Photography: | Warrenstreet Architects & Contemporary Automotive (see below each image) |
Contemporary Automotive is a state-of-the-art dealership in Milford, NH, the building is progressive in its design as the architects worked closely with a team to complete the area's first solar-powered auto dealership.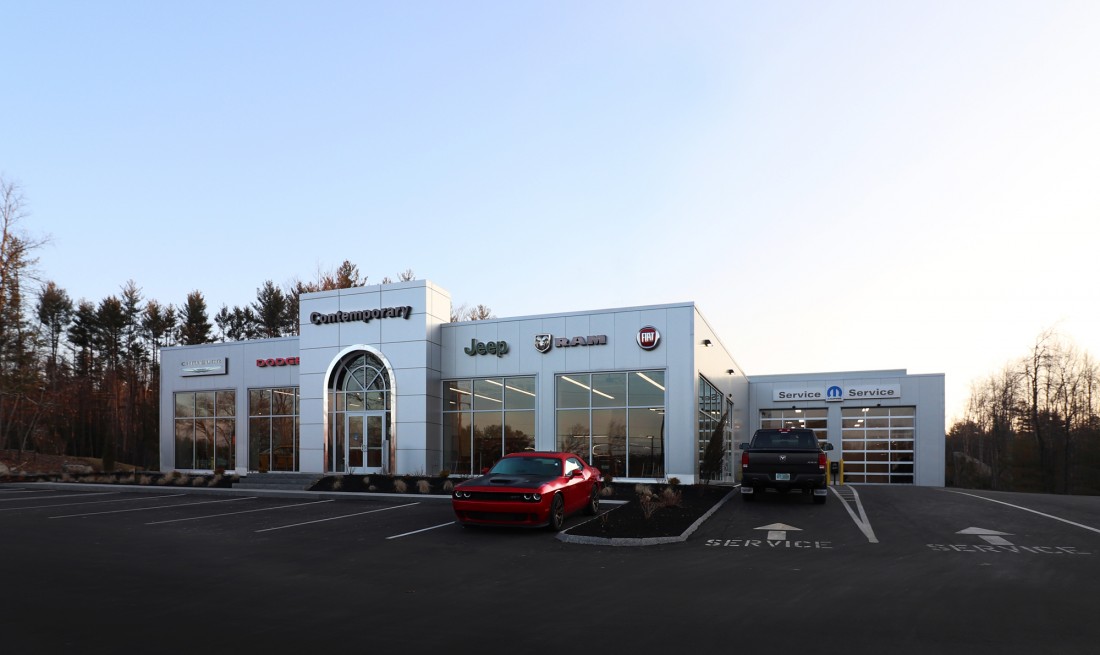 photo courtesy of ©Warrenstreet Architects
The 25,000 square-foot facility was designed by Warrenstreet Architects who constructed the eco-friendly building with a 135-kilowatt solar array on the roof installed by ReVision Energy, New England-based solar energy specialists. The team at Warrenstreet worked closely with the structural engineers at TFMoran who explain, "In comparison to their original dealership, Contemporary Chrysler on Elm Street, the new modern facility will allow the dealership to increase inventory, offer more services, and better accommodate the needs of their clients, offering Chrysler, Dodge, Jeep, Ram and FIAT.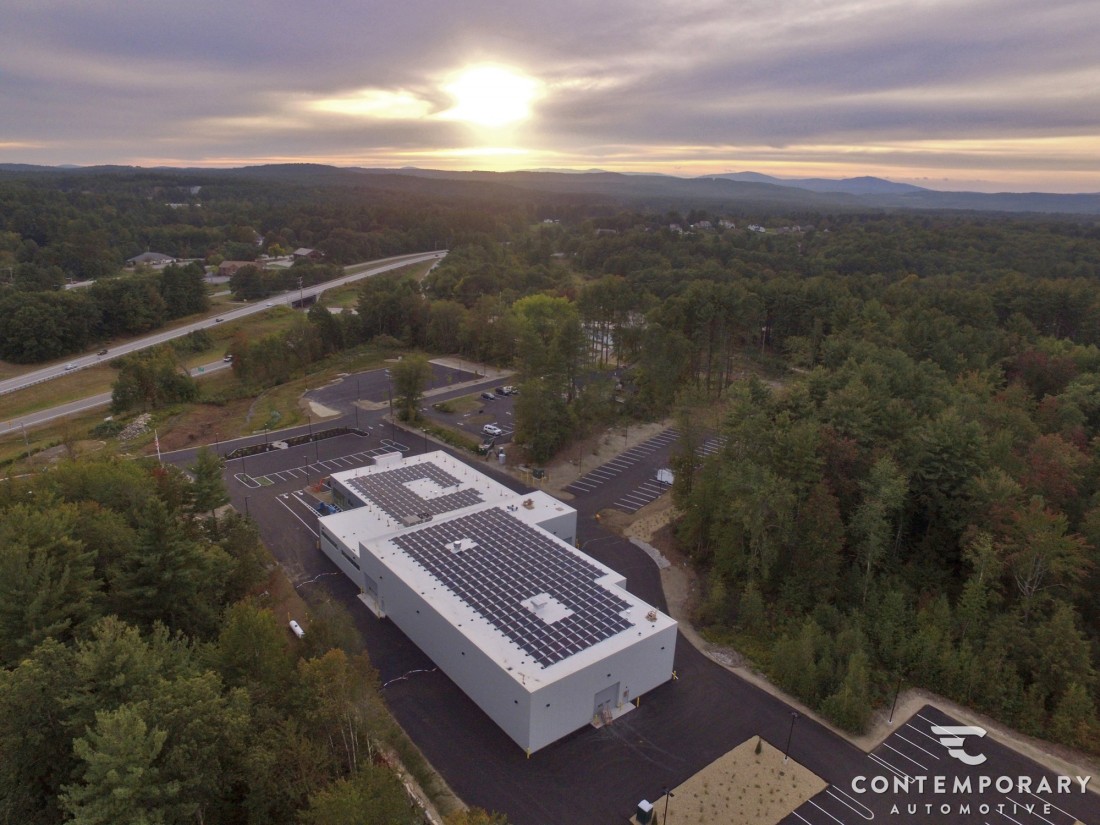 Utilizing solar power, the building produces an incredibly energy efficient model where hundreds of thousands of dollars in energy costs will be saved. The architects didn't stop there, the environmentally friendly amenities continue throughout the interior and exterior where they integrated LED lighting systems, stormwater runoff management with bioretention gardens, and native landscaping.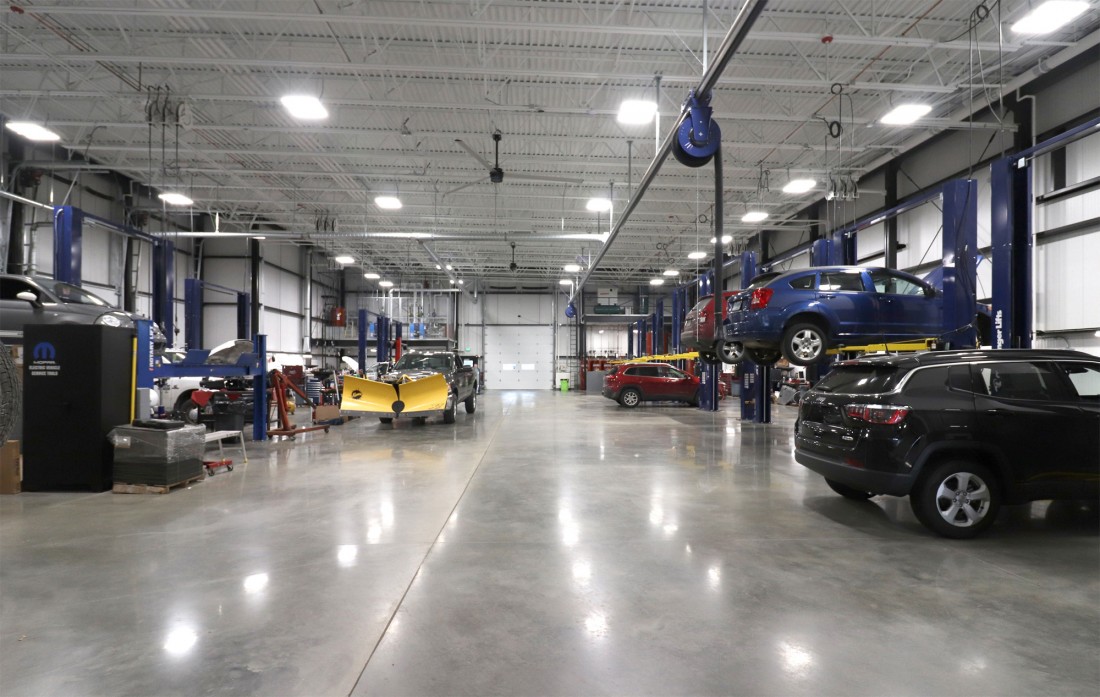 photo courtesy of ©Warrenstreet Architects
The project exudes sustainability with the latest technological advancements in energy efficiency including the building's use of Reznor waste oil boilers that repurpose used motor oil to generate 70% of the dealership's energy needs.
Replacing the company's previous facility on Elm Street, the new Contemporary Automotive encompasses the brand's movement towards expansion and innovation by providing a comfortable place for employees and customers.
Exterior Designs Inc subcontracted CEI Materials to provide the exterior metal composite panels. Fabricated utilizing CEI's customizable R4000 Drained Rear-Ventilated Rainscreen System, the building is enveloped in aluminum composite materials, which serves as a visual representation of the brand's groundbreaking future.