Mixed-Use Residential Complex Blends Into Established Streetscape With Adaptive Façade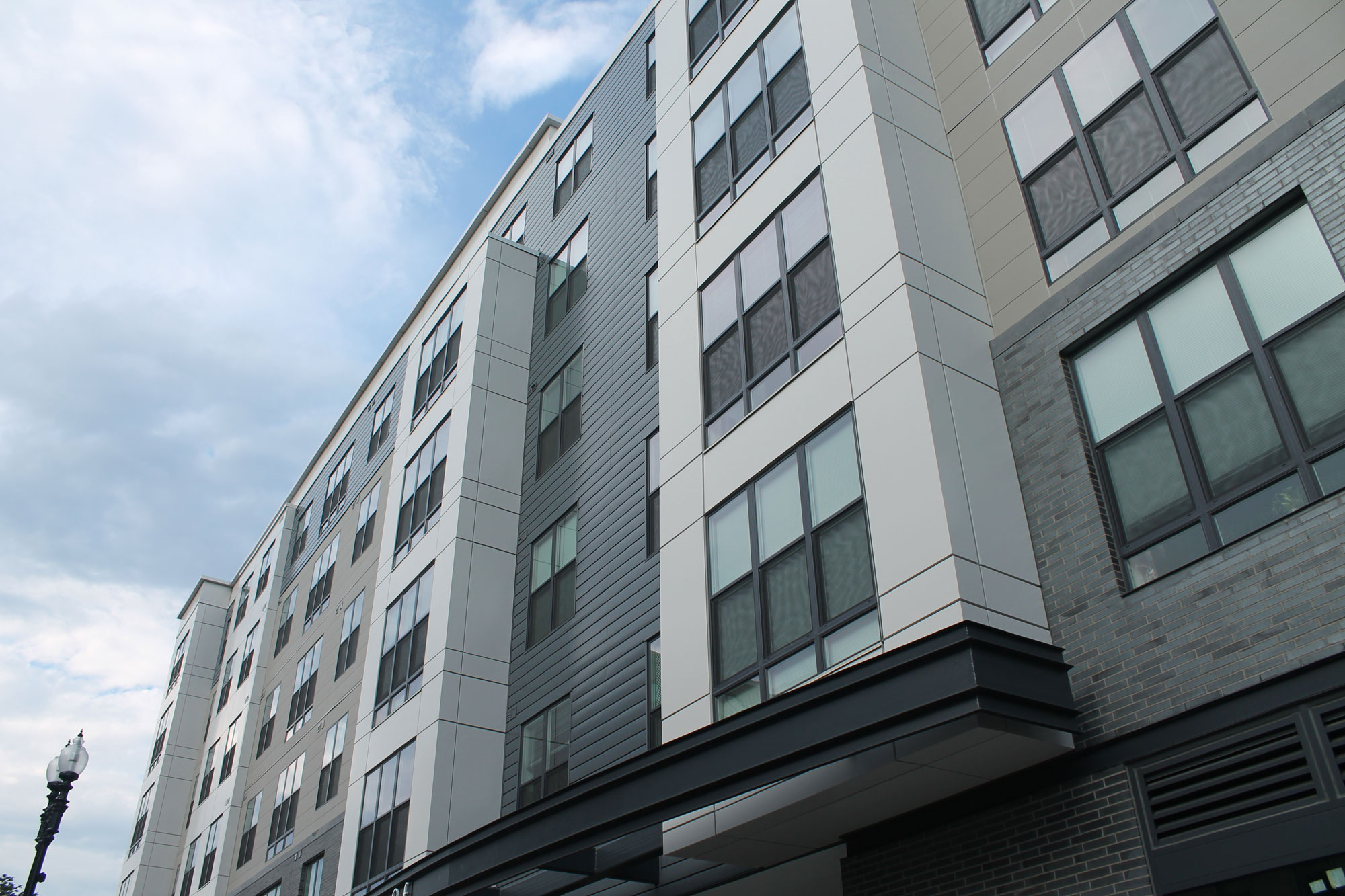 | | |
| --- | --- |
| Project Name: | West of Chestnut |
| Location: | Quincy, MA |
| Architect: | Sheskey Architects |
| General Contractors: | Dellbrook Construction |
| CEI Materials System: | R3000 |
| Products: | Metal Composite Material, Single Skin |
| Photography: | CEI Materials and Sheskey Architects (see below image) |
Completed in Fall 2016, West of Chestnut is a unique mixed-use residential complex. Developer Gate Residential with investor Quincy Mutual Fire Insurance spearheaded the nearly $30 million project with the help of general contractors Dellbrook Construction. The 169-unit apartment complex contains 15,000 square feet of ground level retail space.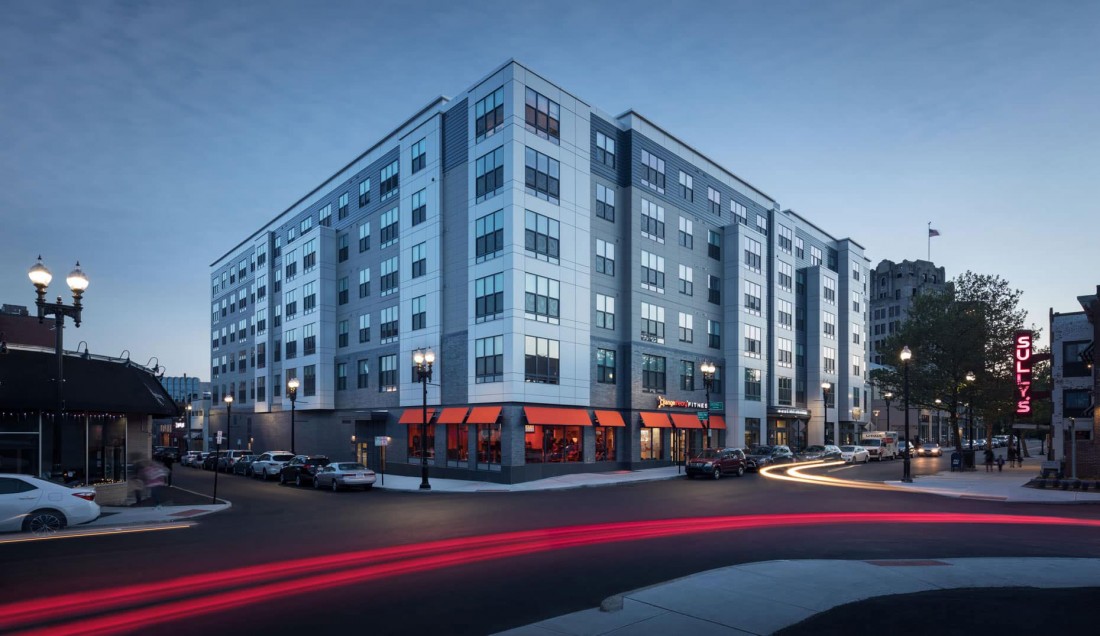 photo © Sheskey Architects
The project sits in the heart of downtown Quincy and is composed of two buildings, both of which are situated beside the historic Granite Trust Company office building. The office building was built in the 1920s with a distinct Art Deco style. The significance of the neighboring historic façade, and the established streetscape, encouraged the designers at Sheskey Architects to create the complex with an internal focus. The interior courtyard is where the community living and a multitude of modern amenities are provided.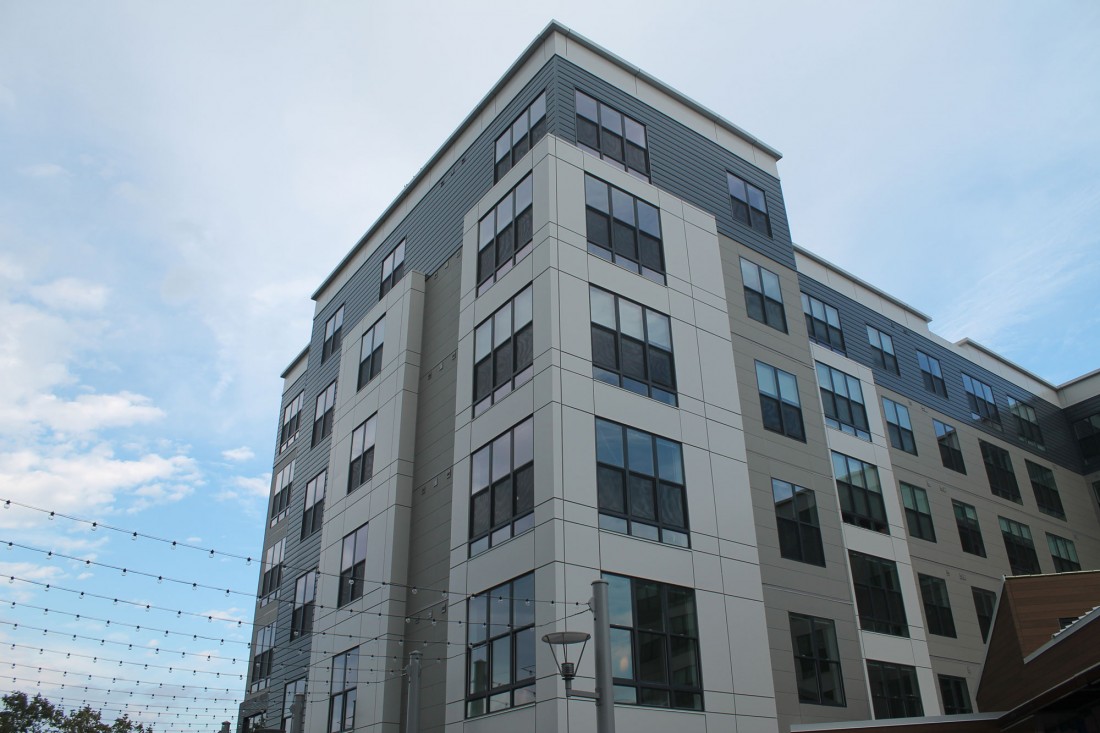 The architects at Sheskey describe, " Careful attention to the existing fabric of the city was crucial in design. Constructed with quality materials, unique detailing and high end finishes, West of Chestnut is a welcomed addition to the urban city."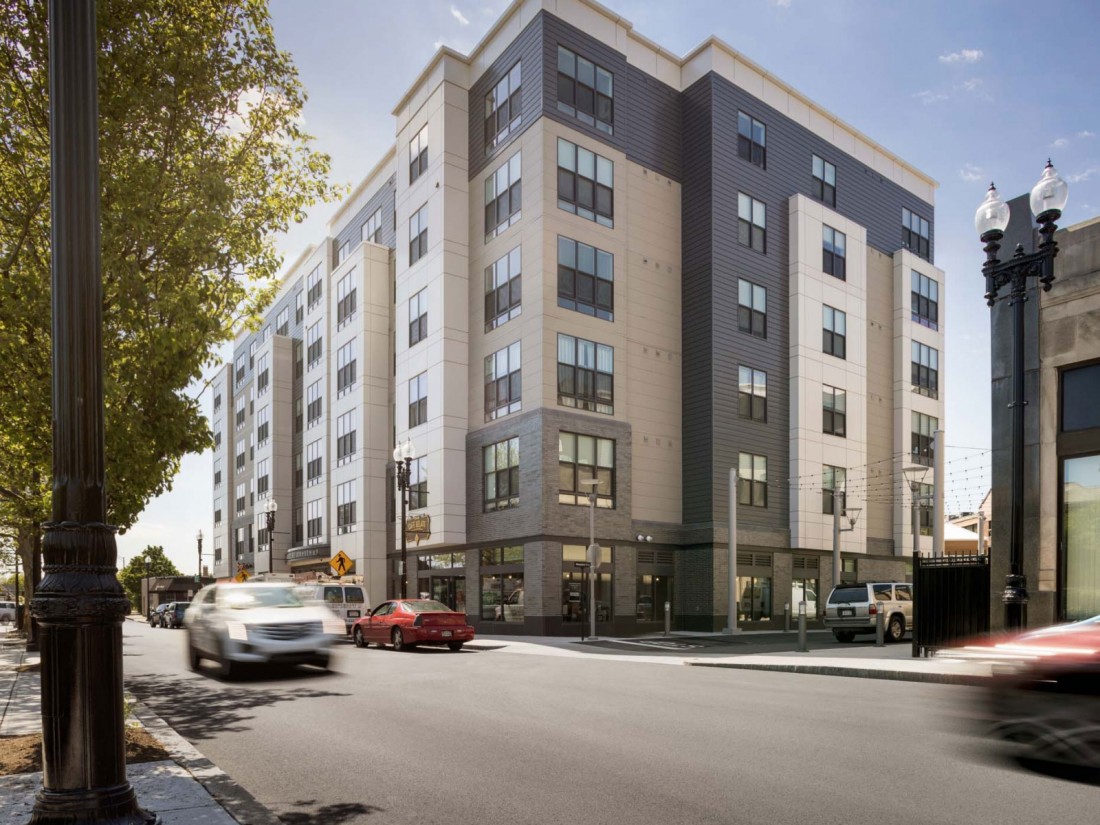 photo © Sheskey Architects
The project exudes contemporary urban living with a 1,300 square foot dog park, 800 square feet of artificial turf and a 2,600 square foot Club Room. The courtyard is an extension of the interior spaces allowing large doorways to open and allow community spaces for social gatherings and fitness classes. The design emphasizes a sense of community with intentional spaces for social interactions with the addition of fire pits and outdoor kitchen and barbeque facilities.
The architects chose a series of neutral architectural materials to both complement the neighboring stone facades and also add a more contemporary style with the use of metal components. The exterior features both single skin metal and aluminum composite material. CEI Materials, utilizing the R3000 Pressure Equalized Rainscreen System, fabricated the metal façade. This system has been tested to remove the driving forces for water penetration. Additionally, it equalizes the air-pressure on the external and internal sides of this compartmentalized panel system.
Building within an established streetscape is a difficult task. West of Chestnut does an extemporary job at showcasing the ability of architecture to be modern as well as adaptive. The project is one of many in the exciting redevelopment of downtown Quincy.